Ocean Beauty Seafoods won't be processing fish at the company's cannery in Petersburg this summer because of damage from the state ferry Matanuska.


For iFriendly audio, click here:
The 408-foot passenger ferry crashed into the Ocean Beauty plant May 7th, gashing the wood and concrete dock and the cannery building.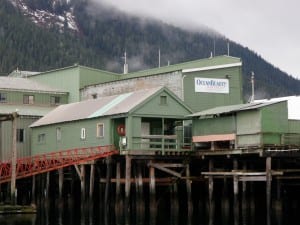 The fish processing company initially said it would still operate the plant this summer, but now says it will not be able to. "In order for us to really do a comprehensive assessment of the plant, it's going to take us a little more time," said Tom Sunderland, vice president of marketing with Ocean Beauty. "We've done a good preliminary round of assessment. We have a good sense of what we think the damage is but to know for absolute certainty that it's completely safe and that all of the regulatory concerns will be taken care of that's gonna take us a little more time."
Sunderland says Ocean Beauty will still run support services for its salmon fishing fleet out of the Petersburg plant. "They'll still be able to get ice there," he said. "We'll still be running the office for admin services that the fleet would use. And our tender service won't be changed at all. So for the fishing fleet there really will be essentially no difference."
The company brings more than 160 workers to town to process salmon during the busier summer seasons. A weak pink salmon return in 2010 prompted Ocean Beauty to shutter the cannery for one year. It was re-opened again last summer and Sunderland says they will be processing again next year.
Meanwhile he says Ocean Beauty does not yet have a good estimate of the damage caused by the ferry. "The engineers are just finishing their reports on it now," Sunderland said. "And its going to take a little while after that before we can get the contractors in there to figure out what the damage is, before we're gonna know that."
Pink, sockeye, coho and chum salmon caught by Ocean Beauty's fishing fleet this summer will be transported by fishing tenders, and processed at the company's plant in Excursion Inlet west of Juneau. The company has also made arrangements with some custom processing operations to handle the 2012 catch.
The decision leaves Petersburg with only one salmon cannery operating this summer. However, fishery managers are forecasting another weak pink run in 2012. The Marine Highway System has not yet finished its investigation of the accident. The Coast Guard last month ruled out a mechanical problem as a cause of the crash.