The CEO at Petersburg Medical Center has declined a job offer from Bartlett Regional Hospital in Juneau. Instead, she'll remain on the job in Petersburg and is looking forward to upcoming capital projects and other changes at PMC.


For iFriendly audio, click here:
Liz Woodyard has been on the job at PMC for nearly a year. She said she applied for the position at Bartlett because it sounded like an opportunity she didn't want to miss. "As a professional and a CEO it was a bigger hospital and had a lot of exciting challenges but professionally for my career I thought it would be a good opportunity and it really would be a good opportunity, it's a great job and really good people but when all is said and done I have a great job here and I have a lot of great opportunities," Woodyard said. "We're doing good things at the hospital and I really wanna see it through the things we've started."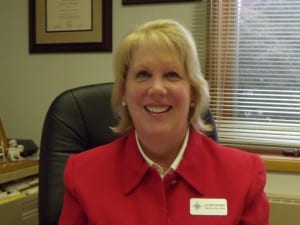 Woodyard is a registered nurse, originally from Minneapolis, Minnesota. Before Petersburg, she was CEO of a hospital in northern California and has worked in health care administration, nursing and nursing education jobs in Fairbanks, Missouri and Minnesota since 1987.
Woodyard said PMC is looking to increase long-term care and swing bed patient numbers and looking forward to completion of several capital projects. "We're going to be getting a new roof. We're gonna get a new hot water syste," Woodyard said. "But also really exciting for our long-term care residents is that we're going to get an update. A new fresh look with new furnishings and paint for long term care. We're going to be bringing in an architect that's got extensive experience in Alaska and hopefully we'll get a good person to come to come in here and get some input from our residents and their families and to really make it a nice setting. So we're looking forward to that."
Woodyard said PMC is also expanding its physical therapy department and welcoming a fourth physician to the staff this year. She was one of three finalists for the Bartlett job and the only in-state candidate. One applicant, William Comer, withdrew his name from consideration before the final assessment center interview earlier this month. The only remaining finalist, Christine Harff, currently serves as CEO of Sanford Medical Center in Thief River Falls, Minnesota.
The Bartlett Board of Directors has not named its top candidate, citing the need to keep personnel and financial matters private. Board President Bob Storer declined to say whether Woodyard was offered the job. "I'm just not prepared to discuss the process until the process is completed," Storer said.
Storer said the board continues to have "very positive discussions" with its top candidate. But he stopped short of saying an announcement will be made at a board meeting Wednesday night. "If in fact we have an announcement to make on who the candidate is at that point, I think everybody would be happy. But I'm not prepared to say that it'll be finalized by that point," he said.
Bartlett is the largest hospital in northern Southeast Alaska. It's owned by the City and Borough of Juneau, and its board members are appointed by the CBJ Assembly. The board late last year decided to hire its own CEO after more than two decades of an outside management company running the hospital.