Two Petersburg High School students spent the past year in foreign countries with Rotary's Youth Exchange Program. Maura Sullivan and Marlena Erickson, who both start up their senior year at PHS later this month, returned to Petersburg this summer after a year staying with host families in two European cities. Sullivan spent the year in Warsaw, Poland and she spoke with KFSK's Joe Viechnicki about her impressions of that country, including what is was like getting used to life in a big city.

For iFriendly audio, click here: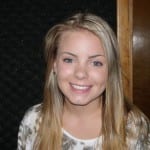 While Sullivan was in Poland, classmate Marlena Erickson spent her year in Hudiksvall, on the eastern coast of Sweden. She also got the chance to connect with relatives and tour throughout the country.
For iFriendly audio, click here: