Harbor users in Petersburg could see moorage fees and other charges increase soon. The city's harbor master says the department needs to make up a budget shortfall and come up with additional funds for replacing North Harbor. Petersburg's city council and harbor advisory board took a look at that project and funding possibilities during a work session last week.


For iFriendly audio, click here:
Much of the discussion Friday centered around replacement of Petersburg's North Harbor, currently number two on the city council's capital project priority list. That project has seven million dollars in funding secure but needs another two million to cover full replacement of the floats and stalls.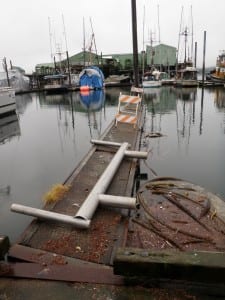 Harbor master Glorianne Wollen said she wanted to seek construction bids for in January and said the city could not wait to seek additional money from the state. "I would like to have a bond in place so that if the legislature does not, the funding doesn't come through,we actually can move forward to award those addendums," Wollen said. "Because if we don't, we're looking at mobilization costs. We're looking at it taking a number of years to get the funding to say go to a phase two. And it will double the cost. And maybe if we have a bond in place, or we have a loan in place, and the state comes through, than maybe we don't have to, than we can cancel the loan."
The city is still paying back a 2006 bond issue for South Harbor work, at 118-thousand dollars a year for 15 years. Another bond issue would require voter approval and Wollen wondered about the possibility for a special election to seek that approval. She said paying back a two million dollar, 20-year bond issue would cost the harbor 160-thousand dollars a year. The harbor department is also facing a budget shortfall of 88-thousand dollars this year and wants to fund depreciation, basically putting away money in anticipation of replacing other docks and floats in the future.
Because of all that, the harbor board has been looking at raising moorage rates and other harbor fees. Wollen presented a table of rate increases that would be needed to cover the shortfall, a North Harbor bond and depreciation. Petersburg's current rate of just over 34 dollars a foot, could go to 38, 48 or even 61 dollars foot to cover those costs.
Councilors asked Wollen about her recommendations for rate increases. "It's not what staff is advocating, we're just putting these numbers out," she said. "What is staff advocating? Staff is advocating getting one hundred percent of the raw fish tax to the harbor and being the number one capital project for the north harbor."
Currently the city's general fund receives the first 400-thousand dollars of money from raw fish tax, a state tax on seafood landed locally and exported out of Alaska. Anything above that amount goes to the harbors. City manager Steve Giesbrecht said the city's general fund does not have other money to make up for sending more of that raw fish tax onto the harbor. He also did not think there was enough time for a bond issue vote. "We're circling back to basically one of two things, which is a bond election that has to be a special election the public has to vote on that my guess is you can't get done by January," Giesbrecht said. "I mean I'm just guessing but I don't think you can. And you're back to looking at the project and taking it and saying OK you're gonna have to reconfigure what we're doing."
The latest plans for North Harbor have a base project, which would be covered by the seven million dollars. However the remaining two million is needed to fund two additional alternatives for all of the floats and stalls currently in place. Wollen said waiting to build those additional alternatives would bump up the price tag.
Harbor user Bob Dolan encouraged the elected officials and staff to complete the project. "You know I told ya, Im the guy you throw the line out to the guy halfway he swims halfway and then you pull him all the way in. Finish the job," Dolan said. "You don't do 80 percent of the job and then pay another 50 percent to finish the last 20 percent. I mean, finish the job. Define the job and get it done."
Meanwhile, city councilor John Hoag encouraged the harbor board to do as much of the project as it could with the money already in hand, prompting a question from harbormaster Wollen. "Do you want to start working on depreciation?" she asked. "I think depreciation can be put off for a bit," Hoag responded. "I mean it's prudent financial management but we're talking about getting something done that means a lot. And if that means you have to defer putting up a depreciation account in order to spend all that money on North Harbor as far as I'm concerned so be it."
Increasing moorage rates to $48 a foot would make Petersburg the priciest harbor in Southeast, while bumping it to $61 would make it the highest in the state along with Kodiak. A harbor rate hike requires approval of an ordinance in three readings before the city council…and that could be on the agenda later this fall. The harbor board plans to come up with a recommendation for a rate increase that would go before the city council and city staff will look into additional funding options for the North Harbor project.