Petersburg's challenging winter weather helped inspire a painting by a local artist that will be part of a national exhibit this spring in Oklahoma.
An 18 by 24 inch oil painting by Petersburg artist Don Cornelius entitled "Losing battle" is one of 100 artworks accepted for an exhibition at the National Weather Center in Norman, Oklahoma. The exhibition showcases works showing the impact of weather on the human experience.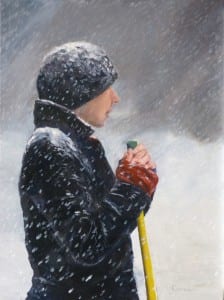 "My daughter Mandy came to visit here last January and it was snowing," Cornelius said. "She went out, volunteered to sweep the snow and I saw an opportunity for a picture when she took a break so I took a picture of her kind of resting on the broom she was sweeping with and it was snowing to beat the band."
The painting was selected from 700 works submitted for the inaugural show. Submissions came from 400 artists in all 50 states and outside the U.S.
"Well Im real excited, real happy. I've entered a few, usually every year I enter a couple competitions from down south just to see what will happen and I connected on this one," he said.
Cash prizes will be awarded in the show when it opens on Earth Day, April 21st. Cornelius's painting and the other works will be on display until June 2nd at the National Weather Center on the campus of the University of Oklahoma.