The minority leader in Alaska House of Representatives Saturday used words like "absurd" and "crazy" to describe legislation under consideration in the state Capital this year. Democrat Beth Kerttula of Juneau criticized the passage of relaxed cruise ship waste water requirements, proposed changes to oil taxes and voucher funding for private education during an address to Petersburg's Chamber of Commerce. The chamber also unveiled a new guessing game contest and recognized a local eatery.


For iFriendly audio, click here:
Thanks to redistricting, Kerttula's new legislative district includes Petersburg, Kupreanof and three other small communities along with a portion of the capital city. She visited here last fall but Saturday marked her first public speech in the community. Kerttula took time to introduce herself and give an update on the legislative session, nearly two thirds complete. "In 15 years, this is the hardest year I've ever seen," she said. "Many things we as Alaskans rely on are under attack. From our oil revenues to educating our children, there's a really big attack on some of the fundamental underpinnings of our Alaskan society."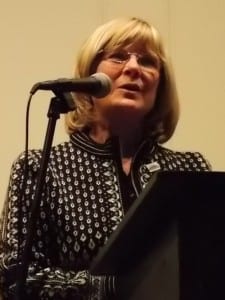 Kerttula is an attorney and is in her eighth term in the Alaska House. She's minority leader in the house and part of a 10-person minority caucus. She criticized efforts by the Republican governor and legislators to change oil taxes, streamline permitting and decisions for use of state land, provide public voucher funding for private school education and relax cruise ship waste water treatment requirements, an issue she called near and dear to her heart.
"I had the first bill introduced because my friends and neighbors worked with me in Juneau and around Southeast to introduce legislation 15 years ago, just so we would know, just so we would understand what the ships were dumping in our water," Kerttula said. "Well we had a great success and then we had a citizens' initiative and it was with my great horror that a bill to roll back our successes went through the House of Representatives in four hours. I don't care where you stand on that issue, that's wrong. Four hours is not enough time to roll back Alaskans pollution law on cruise ships."
Kerttula also spoke against a bullet pipeline to bring North Slope natural gas to south-central communities, which she says is undercutting a larger gas pipeline proposed from the North Slope. And she outlined her priorities for the future. "I think we all want a strong Alaska where our children have good educations, our economy rewards hard work and talent and we respect one another's individual rights," she said. "I think Alaska's future is dependent on three and then I'm gonna add the fourth thing. I think it's education, economy, energy and to me, the environment."
Kerttula said she planned to return to Petersburg for the Little Norway festival and said senator Dennis Egan also planned to visit then.
In other news from Saturday's chamber banquet, a new contest will pay out cash prizes for people guessing how much rain and snow falls in Petersburg. Chamber board member Donnie Hayes unveiled the new contest called the Rain Game Classic. "It is a new raffle that we'll be doing throughout the year," Hayes said. 'It is a guesstimate of how much rain we get on a yearly basis. So please take a look at, take a peak at the informational card, there'll be more information coming out also places that you'll be able to purchase tickets for it. We're proud to present the Rain Game Classic. It's going to be a wonderful new addition to the year's activities."
Tickets are $2 and are on sale until 9 p.m. on October 25th for a guess at the total precipitation amount, rain and snow, to fall in Petersburg this year. Winners will be announced January 10th, 2014 and will split the proceeds from ticket sales.
As it does every year, the chamber honored a business of the year. This year that award goes to Papa Bear's Pizza, which was nominated for a friendly atmosphere in a new location, willingness to stay open late and donations to the community and youth programs.