Federal highway officials this month are seeking input on improving ferry and road access to the Southeast village of Kake.
Two listening sessions are planned for later this month in Petersburg and Kake to hear local input on what's called a draft purpose and need statement for the project. Federal highways released the four-page draft document last month.
Mike Traffalis, project manager with Federal Highway Administration in Vancouver Washington, said the purpose and need is one of the first steps in the process of writing an environmental impact statement, or EIS. "So it's the foundation of the EIS. And as part of the EIS we're going out before say we have a final purpose and need, we're soliciting public and agency comment and feedback on the draft purpose and need to make sure that we've got the project needs identified correctly and the purpose of the project correctly," Traffalis said.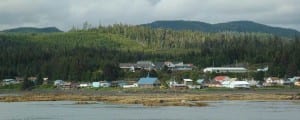 The transportation project is under consideration separately from a electrical powerline connection being considered between Kake and Petersburg, roughly 40 miles away.
The Kake Access project is looking at new road or ferry connections to improve transportation to the community of over 500 people on northwest Kupreanof Island. That could include a road and ferry link to Petersburg. The state has appropriated $40 million for building that connection. However, the Kake access project could include other road or ferry options.
Traffalis said the purpose and need does not identify a range of alternatives. "We're just at the listening posts to talk about the purpose and need, or the needs assessment for the Kake Access Study," he said. "We aren't going to be bringing any maps with ferry routes or roads or anything like that because we have not developed that, those things at this point. We're there to discuss the purpose and need and gain input and insight into that."
The listening sessions will be July 23rd from 5:30-7:30 p.m. at the Kake City Hall and in Petersburg July 24th from 4-6 p.m. at the Forest Service ranger district conference room.
A draft EIS document is expected out in the spring of 2015. There's more information here.