Over 600 people turned out to celebrate the ribbon cutting and grand opening of the new public library in Petersburg Saturday afternoon. The facility has been open for two weeks and has already tripled library use in the community.


For iFriendly audio, click here:



Construction of the nearly 10-thousand square foot facility took a little more than a year and cost under four million dollars. The money comes from a local bond issue and other fund raising efforts and grants from the Rasmuson Foundation, federal government and state of Alaska.
Senator Bert Stedman of Sitka, who grew up in Petersburg, secured the $3.7 million for the project through the state's capital budget and he talked about the importance of libraries. "One of the fundamental issues in a democracy that resides within the people is their ability to read, write and have access to information. And without libraries it's very difficult to accomplish that even though technology is changing today, libraries are changing with them. And they're becoming, morphing into more of a media center along with written documents."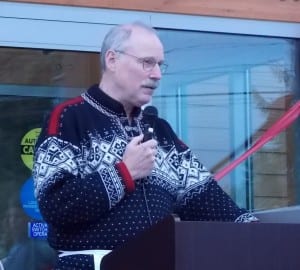 Rasmuson Foundation CEO Diane Kaplan credited Stedman with the legislation that funded new libraries around the state, including Ketchikan, Skagway, Kenai, Sutton and Seward. She said the charitable foundation was delighted to be a part of the project. "We congratulate you. And think of this as really a symbol of how much your community cares about its kids. That's how we see it. So congratulations to everybody."
Friends of Petersburg Libraries president and former school librarian Sue Paulsen MC'd the ribbon cutting and recognized some local dignitaries and local history. "The Petersburg public began on a shelf in the VFW Hall, 1931. But then the territory of Alaska mandated an election. They said we must have an elected library board at every city in order to receive any funds at all. So in 1954 the Petersburg voters went to the polls and they elected library board members that we have with us here today, Carol Enge, Angie Hofstad, Colleen Nicholson, and couldn't quite make it today, Lorraine Thompson. And of course, they are flanked by Petersburg's very first professional librarian, Ruth Sandvik."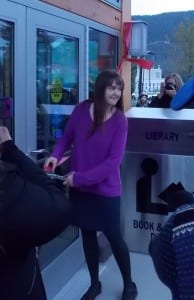 The honor for cutting the ribbon went to current borough librarian Tara Alcock.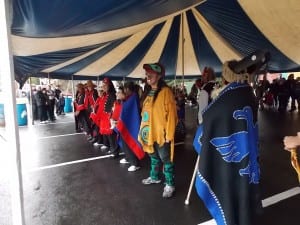 The Keex' Kwaan dancers from Kake drummed though the crowded stacks. There were ribbon cuttings for various rooms in the new building, some of them supported by donations. Alcock says over 500 people came through the doors of the new facility on the day it opened Sept 16th while more than 600 people visited the library for its grand opening. Overall, use of the new facility is more than three times that of the old library, not even counting those numbers from the first day and the grand opening.