Petersburg's borough government this winter could be looking for companies to update a long-term plan for land use in the community. The borough's planning commission this week voted to recommend advertising for a firm to revise Petersburg's comprehensive plan. The document outlines land zoning, status of facilities and future needs. The latest revision will also need to look at land use and goals in an expanded area inside Petersburg's newly formed borough.


State law requires a municipal government to have a comprehensive plan and requires periodic updates. Petersburg's existing eight chapter document covers land use and zoning, transportation, parks and recreation facilities along with other public services and buildings. That document is over a decade old.
"It was passed in 1999 and it needs to be definitely updated," said Planning Commission chair Susan Thomason at a meeting Tuesday. "And it's an opportunity for all the borough residents to identify priorities and issues of concern, besides identifying priorities for municipal land selection."
Other potential pieces of a plan revision could be a facility and rate review for current and future harbors in the borough, or an action plan for economic development in the area.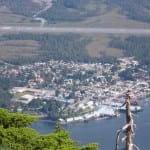 In 2009, Petersburg's city council voted against spending money for a plan update over concerns about the cost of the work. Voters have since created a new borough government with taxation and planning authority over an area that's about 83 times the size of the old city. State funding for creating the borough can be used to pay for a plan update, and the new borough will eventually select state land as a benefit of borough creation.
Commissioner Dona Laubhan wanted to make sure the new comprehensive plan included input from people outside the old city limits now part of the new borough.
Thomason agreed the update should have public input from all borough residents and suggest online surveys could be one tool for gathering opinion this time around. Thomason also thought borough residents will decide their own land restrictions. "For instance, if people choose not to have planning and zoning in their particular area, they may choose not to have it," she said. "But they need to be aware they could get a logging mill next to their home, or a fur farm, if they choose not to be zoned, rural residential, or industrial, whatever. And that will be choice of all borough residents.
Meanwhile, commissioner Dave Kensinger wanted a economic development action plan and harbor facility review to be separate options in the request for proposals. That's so the borough assembly could decide on whether to include those or not depending on cost.
Kensigner though the harbor facility review could slow down completion of the plan. "To me that seems like a really big issue that maybe shouldn't necessarily be right in the middle of a comprehensive plan. A comprehensive plan at least my understanding of it is it's a general document, it's an outline. It's not getting into the specifics, it's not getting into saying, yeah we're gonna charge everybody 100 bucks a day to park their boat at x and x state dock or something like that. And Im afraid if we do that, that's gonna bog us down and we're not gonna ever get the thing done."
Kensinger also pointed out that just because something is in the document doesn't mean it's going to happen. "We have to make sure everybody realizes that this is just, we're not saying this is what's going to happen. This is just an outline and then this gives a reference point for the community to says OK look, We have an economic development plan, it says this, these are the recommendations and then those things get discussed by the community and then they get decided, yeah we'll do this, or we're not gonna do this."
A comprehensive plan revision is typically a lengthy process. Petersburg's last update involved more than two years of focus groups, public hearings and debate. Much of that discussion focused on future plans for 314 acres of publicly owned land near Sandy Beach. That land was ultimately zoned for a mix of residential, recreational, commercial and open space but has yet to be developed.
The commission at Tuesday's meeting approved a motion to create a request for proposals for the borough assembly to consider. Commissioners are hoping the borough assembly will agree to advertise for a consulting firm this winter and plan to broach the issue with the assembly during the assembly's next meeting November 25th.