Petersburg's school superintendent is leaving the district at the end of the school year.
Rob Thomason submitted his resignation to the school board Thursday and plans to retire and spend more time with family after five years in Petersburg.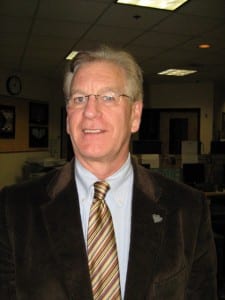 Board president Jean Ellis said she was not surprised by the news. "I knew it was coming but we are very sad to see him go," Ellis said. "He has done a fantastic job for Petersburg and both he and his wife Susan have added a great deal to our community."
Ellis called Thomason a positive influence for the school district and said one of his biggest accomplishments was improving morale. Thomason was named superintendent of the year in 2013 by the Alaska Council of Schoool Administrators. He was hired in Petersburg in 2009.
Ellis said Thomason will help lead the search for his replacement. "And we're not going to pay him any extra for it. It will be part of his regular contract but that should speed up the process a little bit cause he's right here, we won't have to bring in somebody from outside. And we're hopeful. I think he's going to be a difficult person to replace because he has done such a fantastic job but we're hopeful." Ellis said the board wants to have someone chosen for the job by the end of March.
Thomason and his wife Susan plan to move south to be with grandkids. Joe Viechnicki talked with Thomason about his decision to retire.


For mobile-friendly audio, click here: