Juneau Democratic Sen. Dennis Egan says the upcoming legislative session will be different from last year's simply because there are fewer state dollars to go around.
Egan represents Juneau, Petersburg, Skagway and several other small Southeast communities. He's one of two Democrats last year who joined a Republican-led majority coalition in the Senate and thinks budgets will be tighter this year. "The governor's budget of course was put forward, operating and capital. And on the capital side there are not that many projects," Egan said. "But it's not just Southeast Alaska, it's everyone."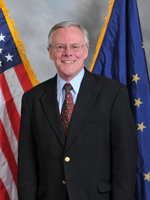 The governor's proposed capital budget includes projects totaling 85 million dollars for Egan's district, with all but 10 million dollars worth funded by the federal government for bridges, roads and airports. Of the 10 million funded by the state, half would go to the Juneau access project. The rest would fund water and sewer projects in Juneau and Petersburg and some building maintenance in Juneau.
Egan expects to be able to add some items to the capital budget for his district in the upcoming session. As for the operating budget, he's concerned about flat funding for education. "Of course there's some inflation increases but you know we haven't had an increase in the base student allocation for now this will be four years and I think that's unfair to municipalities like Juneau and Petersburg and Skagway, Haines," he said. "Our communities fund what we can locally, what we call the cap. We fund as much as we can on a local basis. It's up to the state, its written right in the constitution that one of the main focuses is to provide education to Alaska's kids."
As chair of the senate transportation committee, Egan says he's concerned with the plans for new Alaska class ferries, since the state has decided to go with smaller day-boat ferries. He also thinks the state should be spending money to design a replacement for the Tustamena, which operates around Homer and Kodiak.
He thinks there's no chance of seeing a replacement main-line ferry in Southeast during the Parnell administration. "I think we're going to get these two ferries they're talking about that will be running in the Lynn Canal, I think we're gonna get this but we need to start talking about replacing the Malaspina, the Taku and the Matanuska as well," Egan said. "And I see nothing on the wall of talking about putting some funding in to construct a new main-liner. And we need one here in Southeast."
Egan was prime sponsor on seven bills last session – all are still in various senate committees. They range from bills on pharmacy audits to public employee retirement benefit options to a measure on political activity by a classified employee.
Egan has filed a letter of intent to run for re-election next fall. That's despite a trying year medically for the senator who said he was medevaced out of Juneau twice last year and spent 84 days at Virginia Mason medical center in Seattle, following complications from surgery to improve circulation in his leg. "I'm enthused about representing Juneau and Southeast. And I think Bert Stedman and I, Bert's and R(epublican), I'm a D(emocrat), but we work really well together."
Egan could have competition for his senate seat. Republican Bill Thomas of Haines has filed to run although he has not specified whether he'll seek a seat in the house or senate. After this year, the senate district will drop Petersburg and pick up Haines.
Hear what other Southeast lawmakers want to happen during the session:
Sen. Stedman says hydro funds tight, otter bill will change
Sen. Dennis Egan expects tighter state budgets in 2014 
Rep. Kerttula targets education, gasline, oil tax
More links will be posted as reports are produced.