Work continues on one major harbor project in Petersburg this winter while another one is scheduled to see some work begin as early as next week.
The $7.1 million rebuild of North Harbor is on schedule to be completed this spring with water lines, electrical equipment and more pilings going in this month.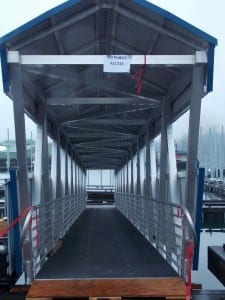 Meanwhile, demolition of an old fuel dock is expected to start in early February to make way for the new $7.8 million vehicle-accessible, drive-down dock in South Harbor. That harbor will also see improvements to the crane dock later this year, as that contract has been advertised this winter. Joe Viechnicki spoke with harbormaster Glo Wollen for an update on the harbor construction, starting off with the work in North Harbor.


For mobile-friendly audio, click here:
The crane dock widening is planned to start September 15th right after the last cruise ship of the season. In addition, a couple of smaller projects, a replacement launch ramp float and new troller work float will also be installed in the harbors this year.