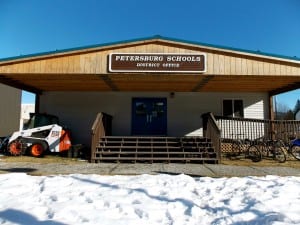 The proposed budget for the Petersburg School District cuts payroll to reflect less funding from a decrease in student enrollment. The budget is a changing thing. Some of it comes in a monthly allocation. So, district administrators have been giving it their best guess as to how the numbers will actually pan out. Petersburg's school board got a look at the proposed budget Tuesday night.


Projected revenues are $9,775,020, about $19,000 short of projected expenditures.
Karen Quitslund, Finance Director for the District, told board members they would need to go into their reserves for that balance.
One of the main factors for the shortfall is that the foundation funding is being reduced by $302,000 because of declining enrollment.
Administrators have met several times about it and came up with proposed budget changes.
"The major changes are in the payroll aspect of that. So, a lot of the other categories were not needed to be changed because we changed some of our staffing," Quitslund said.
There will be three less teachers and one less classified employee. That includes a high school English teacher and a first grade teacher, who are both resigning. Additionally, the district is dropping a middle school special education teacher and they are losing a middle school classroom aide. To compensate, the district plans to keep students in combined classrooms at the grade school and shuffle students around.
The yearly student count happens in October which sets state funding. At this point, the district is right at the threshold of 425 students. If they have one student less come October the budget would decrease but they are actually projecting more students by then.
The district is also dealing with increases to insurance rates as well as a three percent increase to electricity and five percent increase for fuel.
But, it wasn't all bad news.
"Breaking news yesterday was that there was a zero percent increase in our health insurance premiums," Quitslund said. "So, that is not reflected in this draft."
Superintendent Rob Thomason called the zero percent increase a blessing but was quick to say it's not coming without a cost.
"We don't have a Cadillac health insurance program. We have a Chevrolet program and it's not even a Classic Chevrolet," Thomason said. "But it is a good program and it meets people's needs but it wouldn't be happening without the cooperation and understanding of our staff."
The zero percent increase to the NEA insurance is statewide.
The Petersburg School District is also seeing an increase in the PERS and TRS ON BEHALF rates. Those are the funds that the state contributes on behalf of employees into the state retirement system.
"We never see those funds but we are required to include those in our budget and actually for this coming fiscal year, it's over $2 million," Quitslund said.
Those rates went up about seven percent for PERS and 17 percent for TRS, a total of about $354,000 (from $109,507 and $463,252 respetively).
The school district is assuming the borough will make a $1.8 million contribution but that won't be a done deal until the borough approves its budget next month.
The district's budget is due to the state by mid-July.