The National Transportation Safety Board has determined the probable cause of a float plane crash near Petersburg a year ago.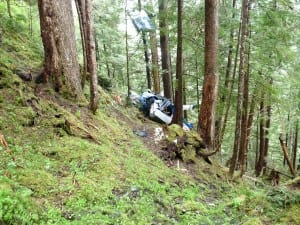 The Board's finding, released this week, was that the pilot failed to maintain enough altitude and airspeed above the trees on the steep mainland mountainside near the LeConte Glacier. According to interviews with people on the flight, the plane stalled and made a sharp left-hand turn as the pilot tried to avoid crashing into the mountain.
The 39-year-old pilot and six passengers were onboard the Pacific Wings deHavilland Beaver when it crashed more than 900 feet up the mountain, on June 4th of last year, just after 3:30 in the afternoon. The plane was headed to LeConte Bay for a flightseeing trip.
66-year-old Thomas L. Rising of Santa Fe, New Mexico was killed in the accident. He and five others, Frank and Amy Allen, along with their sons Will, Rob and Ben were passengers on the cruise ship Sea Bird, on an Alaska cruise offered by Lindblad Expeditions and National Geographic. Those five, along with the pilot, survived the crash and were rescued from the site.
Weather and the plane's mechanical condition were not determined to be factors in the crash. The pilot had over four thousand hours or flying experience including more than 14-hundred hours flying the deHaviland Beaver. The flight was his fourth of the day, and third tour flight.