Voters in Petersburg's borough have three different elections on the horizon and absentee voting in the first begins next week. In addition the filing period's now open for candidates interested in one of the many local seats available in the Petersburg Borough election in October.


The first election coming up is the August 19th state primary. That will decide party nominees for state house, governor, lieutenant governor, Congress and one of Alaska's seats in the US Senate. Voters will also decide one ballot measure. That's on whether or not to reject the state's oil and gas production tax passed by the legislature last year. A yes vote will repeal the state's current oil tax system, a no vote will keep that oil tax in place.
Absentee voting for the state primary runs August 4th-18th, Monday-Friday from 10 a.m. to 2 p.m. at the borough clerk's office in Petersburg. For in-person voting, polls will be open at the aquatic center on August 19th from 7 a.m. to 8 p.m.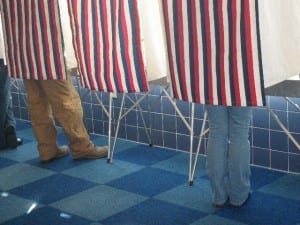 One week after that, on August 26, is the deadline for Petersburg borough residents to throw their hat in the ring for local borough office. That local election does not happen until October 7th, but it's a big ballot this year with many open seats and numerous ballots questions.
Borough clerk Kathy O'Rear said it's probably the most challenging election she's prepared for in her 30-year career. "We've always been known to have big ballots here in Petersburg but this is bigger yet. Like I said, 37 positions to fill, the propositions and each time I see my fellow clerks across the state they just kind of snicker and laugh, yeah Kathy's got her hands full every year when it comes to elections," she said.
Petersburg has an unusual amount of elected seats, where other communities rely on appointments to fill advisory committees. The ballot could have been even longer if the borough assembly hadn't decided to end some of the advisory boards after the formation of the borough. This is the first election since the start up of the borough in early 2013 and that means some of the boards and commissions have all five or seven seats to fill. That's the case with the planning commission, harbor board and library board and the public safety board.
Meanwhile, there are four seats open on the borough assembly, three on the school board and four on the hospital board. O'Rear said the different elected offices have different filing requirements for paperwork. "For each position it's a little bit different this year. The assembly, the hospital board, school board, our advisory boards like harbor and library, they all have different qualifications that they gotta meet this year so we tried to spell them out specifically for each position anyone might be interested in."
That information's spelled out on the borough's website and has been published in the newspaper. Residents will have to complete a form with the borough clerks office to declare their candidacy. New candidates this year also will have to fill out an additional form to opt out of state financial disclosure requirements. "The incumbents that wanna re-run, they can actually use a filing that they already made with the state," O'Rear said. "We wont ask them to make a new one. However I am recommending those that wanna run for candidacy, new people, that they can file an exemption. If they're not going to spend over 5000 dollars for campaigning they can file this exemption. And I don't really know anyone in Petersburg that really spends money to campaign that much."
O'Rear said that exemption for is a simple one-page form. Also nominating petitions with 25 signatures are required for borough assembly, school board and hospital board but not for the other boards and commissions.
Beside the elected offices, voters will be deciding on a ballot question for the community to opt out of the state's financial disclosure requirements for candidates. A slate of six or seven sales tax and excise tax questions are also looking likely to appear on the October ballot.
Voters need to be registered by September 7th and absentee voting will start up September 17th at the clerks office. Polls are open in the local election 8 a.m. to 8 p.m. October 7th at the aquatic center.
Take a breath after that election, and there's one more. That's the state's general election November 4th to elect a governor, lieutenant governor, state representative, U.S. House and one U.S. Senate seat. There are also ballot measures on legalization of marijuana, increasing the minimum wage and protection of Bristol Bay salmon streams.