A damaged navigational marker just outside Petersburg's ferry terminal has been replaced this summer.
Marker 58 in the Wrangell Narrows was struck by a passing vessel in August of 2013 and was leaning over. Dave Seris, assistant chief of the Coast Guard's waterways management branch in Alaska, said the old tower was leaning but still operating. He said the cutter Elderberry did some work on the marker last summer. "Back in last August what the crew of the Elderberry did was they went out to the leaning tower and repositioned the light so it was still on a horizontal plane to the water."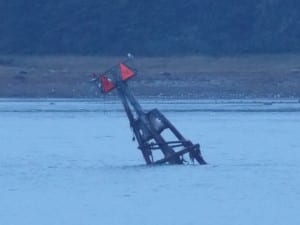 This summer the Coast Guard contracted with a pile-driving tug and barge to remove the old navigational tower and install a new one. Seris said the Coast Guard does this type of replacement maybe once a year, or every other year in Alaska. He said it's not the first time navigational markers have been damaged in the Wrangell Narrows with the shipping traffic near Petersburg. In fact, he says an older, damaged marker tower was recovered nearby. Seris said the National Oceanic and Atmospheric Administration found that one during a sea-floor survey several years ago. "About 15 yards to the south of here as they were doing their survey work they found the remains of another tower that had been probably caught up in a log tow and it went missing years ago and we never knew where it was. So NOAA found that for us when they did the survey work and we had some symbology if you look at a chart there's a two fathom shoal that's just directly to the south of light 58 on the far side of the channel and since we had the contractor out there they were able to recover the wreckage from that tower as well."
The total cost of this year's tower replacement was 267-thousand dollars.