Kids hit the streets of Petersburg recently to showcase their music skills and raise money for Bluegrass Camp. It's a program that runs throughout the United States, taught by a group of traveling folk musicians.


It's an hour before the kids will pack up their instruments and perform in an outdoor venue: the sidewalks of downtown Petersburg. They're going busking later.
"Busking is kinda like when you get in a group and practice things and go sing for people," says eight-year-old, Allie Thomassen. She's brushing up on her guitar playing skills. The instrument is about half the size of her tiny body, but that doesn't stop her from strumming to "Oh, Susanna."
The camp brings in established bluegrass musicians from around the country, like Tyson James Alteri. "I've been living in Nashville. For the past three summers, I've been playing around Alaska in Tyson James and the Hot Strings." Alteri went to the University of Alaska in Anchorage in the 90s. Since then, he's been working the country music circuit between Los Angeles and Nashville. "But the nature and the beauty of Alaska draws you back." Teaching gives him the opportunity to travel. He's even taught bluegrass in Hawaii, but he says there's something special about mentoring the kids in Southeast. "This camp in particular has some unique kids involved. They pick up things really fast. It seems like music is going to stick to these kids."
The class is busking later for the thrill of performing in public, but they're also doing it for something else. Eight-year-old Breiland Willis just isn't entirely sure what that is.
"I think it's where you go around playing music around town singing?" Alteri reminds him that they'll also be making money for the camp.
From the earnings, the camp will purchase more instruments, strings, and picks. "We like to provide the instruments so people have a chance to play new instruments they've never had the chance to play before," says Angela Oudean. She performs with the band Todd Grebe and Cold Country, and teaches at the camp. She says for beginning musicians, instruments like the banjo can be hard to come by. "It's going to be their first time playing that instrument. They're not going to have one at home."
The kids busk on the sidewalk, between a local boutique and hardware store. The spot is a prime location for the hustling musicians. After performing, Oudean counts a stack of dollar bills dropped in a fiddle case. "$32 bucks. That's half an instrument right there."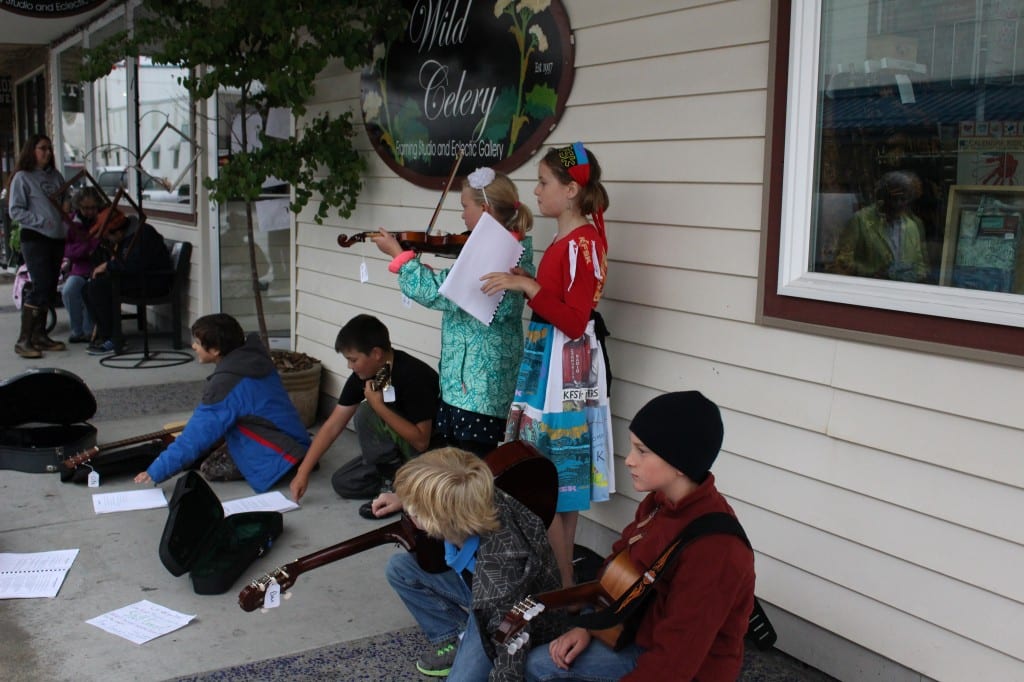 In total, the kids earned about $200 busking. It's money they'll put back into next year's Bluegrass Camp.