Southeast Alaska commercial dive fishermen are gearing up to start fishing for geoduck clams and sea cucumbers in October. For geoducks, a complicated fishery has become even more so following last year's Chinese ban on U.S. Pacific coast shellfish.


The geoduck fishery is already a complicated one for managers and industry because of the occurrence of paralytic shellfish poison, a toxin that can be produced by algae in the clams. Geoduck areas that can be opened for fishing are tested for the toxin and if levels are safe, divers can harvest the large clams from those sites.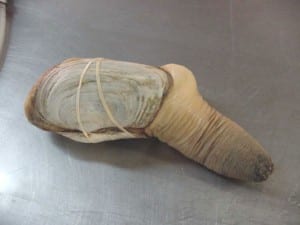 That changed with last year's season, when China banned imports of shellfish from Pacific coast of the U.S. because of PSP levels in Alaska and levels of inorganic arsenic in clams from Washington state.
Phil Doherty is executive director of the Southeast Alaska Regional Dive Fisheries Association, or SARDFA. He said a complicated fishery has gotten more so this year. "I thought it was complicated when we were just dealing with PSP testing but this inorganic arsenic and the federal layers of working with NOAA (the National Oceanic and Atmospheric Administration) and now the state of Washington plus the state of Alaska, yeah, has made it more complicated."
Doherty said the dive fishery industry group has paid to test for arsenic in all the areas of Southeast that could be opened for fishing this season. "It's cost our association somewhere in the neighborhood of 30,000 dollars right now to do the testing. We've sent the geoduck clams down to the state of Washington lab because the lab up in Anchorage for the state of Alaska isn't set up to test for inorganic arsenic. But it's been very expensive and time consuming and we're going into the season with a lot of unknowns."
He said results have come back too high for some of the areas. SARDFA is working with the National Oceanic and Atmospheric Administration to come up with a way to retest the areas. But until that happens fishing may not open in some of Southeast. "So out of the guideline harvest level that we have right now, approximately 130,000 pounds of geoducks in five different areas right now we're not going to do any PSP sampling on until we get the inorganic arsenic retesting done and that may be a while."
The overall guideline harvest level is just over 750-thousand this year – so that's a big portion of the clam beds impacted by arsenic levels. And the other areas will only open if PSP levels are low enough. Last year the fishery stretched well into the spring, because of high PSP levels. Alaska's geoducks are caught and shipped live to markets in Asia. Doherty did not know what kind of price divers would see this year for Southeast geoducks. The season is scheduled to start up October 2nd. Typically around 60 divers go out and harvest clams in Southeast.
Four days later, on October 6th, diving opens for sea cucumbers, a bottom dwelling creature that resembles a cucumber, and is also eaten in Asia. The cucumber fishery is a little more straight forward that geoducks.
The Alaska Department of Fish and Game's Mike Donnellan said the overall GHL for cucumbers is just over a million pounds this season. The different areas of Southeast are on a three year rotation for fishing, and this year's GHL is an increase from the last time the same areas were fished. "So it's actually an increase of about eight and a half percent this year. So sea cucumbers are doing quite well relatively."

In parts of Southeast both geoduck and cucumber stocks have both seen some impacts from sea otter predation. However, the areas in the rotation for cuke diving this year have not shown population declines from otters.
The cucumber fishery has been going quicker than geoduck diving. The last few years nearly 200 divers have targeted cucumbers. SARDFA's Doherty expected the fleet to harvest the million pound GHL in eight weeks or so. And he's hoping to see around four to four and a half dollars a pound for cucumbers. "Because this isn't a live market, this is a processed animal, we can harvest a little bit more and the timing and the plants, mostly through Ketchikan are the plants that handle sea cucumbers so it's a good boon to the fishery in the early part of the fall and into the early winter. It takes a lot of people to process sea cucumbers."
There's also a red sea urchin season that opens up October 1st with a guideline harvest level of over three million pounds. It's a fishery that hasn't seen too much interest in recent years.