Petersburg High School's varsity volleyball team on Saturday lost two home matches to the Sitka Wolves.
The first match was postponed from Friday because of travel complications for Sitka. Instead both varsity matches were played on Saturday. Petersburg lost in five games Saturday afternoon and then the Wolves beat the Vikings in four games that evening.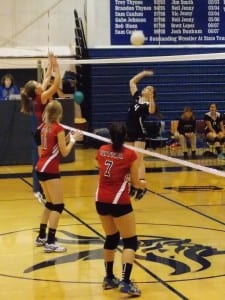 Petersburg coach Lana Corl said her team did well to defend against Sitka's attack. "Kelly Engell was up there like a wall, very effective blocking. She had some very nice hits too, it's really fun to see her coming alive. Adanna (Kvernvik) also had some hits that went right down, straight down the middle. And this is what I've always known she's capable of doing but she's starting to do it now. So there's some bright spots even though we didn't pick up the win."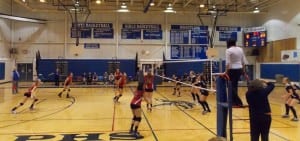 Corl said freshman Courtney Fredericksen also had a couple good matches despite not feeling well. Corl notes her team has to work on its passing. "Sitka's passing went right straight to their setter. She didn't hardly have to move at all. Our setter has to go 20 feet sometimes, sometimes farther to get the ball to set it. And that's something we need to work on is getting our pass to the target area so the setter can set up a play."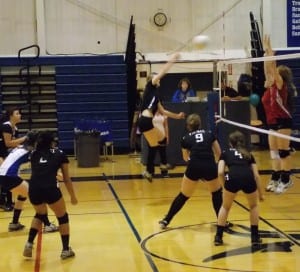 The team is on the road this weekend and will play four matches, two each against Sitka and Mt. Edgecumbe Wednesday through Saturday.