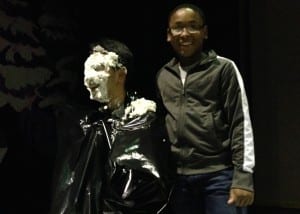 Well over a dozen men in Petersburg grew out their facial hair last month to promote awareness of men's health issues. Several staff members at the Petersburg School District participated. As Angela Denning reports, the Middle School wrapped up its Brovember event Tuesday with some friendly competition.

The Wright Auditorium was abuzz with middle school energy. Students were waiting to find out which Brovember teacher received the most votes for his beard. Principal, Rick Dormer, announced the winner.
That would be Athletic Director, Jaime Cabral. . .But he wasn't the only winner at the assembly. A student's name was drawn to deliver Cabral's prize. . . .a pie in the face.
7th grader, Sawyer Bryner, walked onto stage which was covered in a plastic tarp. The students urged Dormer on as he filled a pie crust with a can of whipped cream.
Cabral waits on stage, smiling. He's prepared, covered in a trash bag and sitting on a folding chair. Bryner brings the pie close to Cabral's face letting him see and smell it a few times. And then…..smack. The pie flies.
It was a good finale for a month long event. The men grew their beards out throughout November then decorated or shaped them into something unique over the Thanksgiving break. Some of them named their creations. Dormer's was the North Pole. Cabral's, The Pirate. Another was the Brockinator.
Although the event built comradery among the male staff, the underlying theme remained men's health, says Dormer.
"The bottom line is men's health issues and just another form of education," Dormer says. "Not enough classroom time for every little thing so. This is kind of a fun way just to bring a small bit of attention just to men's health issues."
The 8th grade health class talked more about men's health issues throughout the month, a topic that Dormer says doesn't always get the spotlight.

"One in every two men will deal with some sort of cancer issue," Dormer says. "You know, you just talk about those type of things. Men will live about 10 years less than women. You know, stuff like that. It's not to take any of the spotlight away from any other really big issues but it is something that you don't talk much about."
Brovember—along with Movember which features mustaches– is an international effort to get more people aware of men's health.