Petersburg's school superintendent and the school district are parting ways. Lisa Stroh will be on administrative leave with pay through the end of June. That was the decision of Petersburg's school board at a special meeting Thursday. Meanwhile, the school district will be starting the search for her replacement and relying on other staff to fill the vacancy.


The board went into a closed-door executive session to start the meeting, and met with attorney John Sedor. Following that, the board made a motion to accept Stroh's resignation, effective at the end of June, along with a settlement and release agreement offered by Stroh. That agreement was sent to the district on the last day of 2014.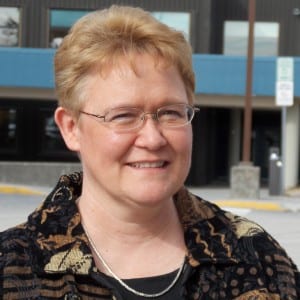 Stroh had been placed on administrative leave in mid-December and left town citing "family medical reasons." Her resignation letter is two sentences long and thanks the people of Petersburg for her time but offers no other explanation.
Attorney Sedor said Stroh made the offer to remain on administrative leave with pay for another six months. That offer is something the district had the opportunity, or has in front of it right now, the opportunity to accept or not accept. I am recommending the district accept that offer," Sedor said.
Audience members questioned the board and it's attorney about the six months paid administrative leave.
"Basically what you're saying is you're going to be paying a person for six months for not working here?" wondered borough assembly member John Havrilek.
"Yeah, she is not providing superintendent services, if this is accepted, she's not providing superintendent services from now through June 30th," Sedor said. "And she would be receiving her salary and her health benefits, that's correct."
Sedor pointed out a clause in the superintendent's contract that would require the school district to pay six month's severance pay if Stroh was discharged without cause.
The board provided copies of Stroh's contract along with the release and settlement agreement after the meeting. The two sides agree not to pursue claims against each other. Stroh's resignation is effective June 30th of 2015 and she remains on administrative leave with pay through that date. Stroh had agreed to a three-year contract with the district with a first year's salary of $122,720. So in essence, she ends up getting that amount for less than six months of work. Stroh started work here in July after working a year in Valdez.
Stroh's departure means other staff will be filling in for the rest of the school year.
Elementary principal Erica Kludt-Painter will serve as interim superintendent through the end of June.
Second grade teacher Teri Toland will be serving as principal at Rae C. Stedman Elementary during that time, and teaching student Katie Baird will be filling in as a teacher in Toland's second grade class. The board will decide on compensation for those promotions at a meeting January 20th.

Board members after the meeting declined to comment on Stroh's resignation, on the advice of their attorney. They were willing to discuss their upcoming search for a new superintendent, less than a year since they completed their last search. "There's been a lot of turnover within the state, the superintendents, so it has become a bit a problem trying to find someone," said board president Ellis. "And we are looking, we're hopeful."
The board hopes to start the process at the end of this month. Sarah Holmgrain thought it was the right time to be finding candidates. "I think up at the school board conference I learned most districts do their superintendent reviews in January. So district's doing their reviews, deciding what they're going to be doing, or superintendents deciding whether they want to stay or go, or maybe principals that are starting to look at maybe move up, this will be the month."
The board may use a service provided by the Alaska Association of School boards to help find it's next superintendent.