Petersburg's borough assembly will continue the discussion about recycling changes at its first meeting of the month on Monday.
The assembly will consider purchase of a new recycling truck for the sanitation department that will allow the borough to take over curbside collection in the fall. The price tag on the truck is just over 207-thousand dollars. Public works director Karl Hagerman will also report to the assembly on new information regarding blue plastic bags and their impact on the price per ton the borough pays to ship recyclables to Seattle.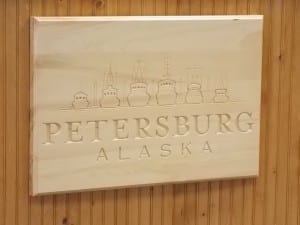 In other business, the assembly will be voting on an authorization to purchase three parcels of land at Papke's Landing from the Alaska Mental Health Trust Land office. The borough was the sole bidder on the land that could be used for parking and access to the public dock and boat ramp about 10 miles south of town. The total for the three lots is just under 110-thousand dollars.
Another bid award is for an 80-thousand dollar columbarium at the Petersburg cemetery. That's a structure to hold cremated remains and would be paid for with a state grant.
The assembly will vote on a resolution that would set two sales tax free days this year. The Chamber of Commerce is requesting the tax free days on May 2nd and October 3rd. The borough's two tax free days last year meant a total of over 19-thousand dollars in revenue the municipality did not collect those days.
Also Monday, the assembly will vote on a resolution authorizing the Southeast Alaska Power Agency to take on more debt for raising the dam at Swan Lake near Ketchikan. Another vote would authorize the borough to seek bids to repair a damaged dock in middle harbor.
There's also the third reading of several ordinances Monday. One revises the definition of nuisances in the borough and sets fines for things like abandoned buildings, junked appliances or other garbage on private property.
Another ordinance will increase fees for transient and short-term moorage in the harbors along with creating a new permit for use of the drive down dock, which just opened last week.
Also the proposed borough budget for the upcoming fiscal year is in its third reading. Total spending in the municipality's general fund and enterprise fund totals over 25 and a half million dollars. The spending plan represents a one and a half percent decrease in spending from the current year. The ordinance does not yet set a property tax rate for the upcoming year. The assembly will address that tax rate at a later date.
The borough assembly also meets at 9 a.m. Monday as the board of equalization to decide property tax appeals.
The regular assembly meeting starts at noon on Monday and KFSK will broadcast the meeting live.