The Alaska Department of Environmental Conservation says some samples taken of ocean water this month at Sandy Beach Park in Petersburg tested above the state standard for fecal coliform bacteria. The bacteria are common in human and animal waste and can be a health risk for anyone swimming in the water or harvesting shellfish.
The state gives out grants to organizations to sample water at beaches around Alaska. Here in Petersburg the sampling is done by the Petersburg Indian Association. It was the first season for the program in Petersburg with the first samples tested in July. Testing done on September 11th and 16th showed levels of the bacteria above state water quality standards. Gretchen Pikul, environmental program specialist for the DEC's Division of Water, noted those levels are just slightly over the standard and not that unusual. "Because it's a popular dog walking area, it's not unusual to see something in the water in that location, or any location when we've had so much precipitation," Pikul said.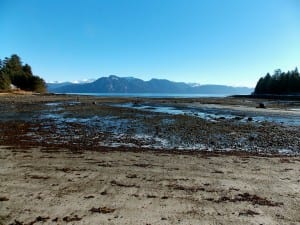 The higher bacteria levels from last week prompted the DEC to issue a notice Friday. That notice warned against swimming at Sandy Beach and instructed people to rinse shellfish from the site and cook it to at least 145 degrees. However, lower levels that showed up in testing later Friday prompted another notice Monday. That notice said the Sandy Beach water did meet standards and cancelled those precautions.
DEC officials say the cause of the high levels of bacteria is not known. Petersburg's treated sewer water outflow into Frederick Sound is nearby and there are also residential homes further along the shoreline not on the borough's sewer system. However, Pikul thought dog waste is the likely culprit. "Those are possible sources but at this point with the permits, they (the borough) haven't had any violations of the effluent samples in the past year, so it's an unlikely source. It's possible from residential outfalls in the area so we'll check into that. So it's most likely dog feces. But we are absolutely checking into all sources in the area."
The state's program for sampling water at recreational beaches in various locations around the state has been going on since 2002. It's funded by the Environmental Protection Agency. The testing happens during the warmer months, once a week, and is scheduled to continue next year at Sandy Beach.