Consultants drafting a revision of Petersburg's comprehensive plan and a water front master plan were back in town this month gathering input on drafts of those planning documents. The planners heard about the need for more focus on remote facilities in the new borough and better communication with residents outside of the old city of Petersburg.


A planning team made up of borough staffers and area residents heard from the consultants about some of the themes emerging from public input gathered this summer. Agnew Beck's Chris Beck summed up one major sentiment expressed by people commenting on the planning process. "Try to continue to have the opportunities for the great lot of people that have been here for the last 40 years for the next 40-50 years," he said, adding, "Opportunities for kids, opportunities to have a job, opportunities to enjoy a subsistence life, all those things that have made this a special place and the answer that people seem to be understanding is OK, that's been great, how do we continue that?"
Beck said the other part of that was the financial role the state has played in funding improvements and services locally and how that role will be changing with the state's bleak fiscal outlook. The company's Shelly Wade thought they needed to do a better job of clarifying the budget outlook in the short term and the need to plan for harbor projects in the long-term. "That feels like it's there but not stated loudly enough," she said. "And then when you look at the waterfront master plan there's a misalignment of those two pieces because of the proposed projects that are there."
In addition to the comprehensive plan that looks at things like land use, zoning, housing, population trends and public facilities, the consultants are also developing recommendations for the harbor and waterfront in that separate master plan. That document looks at the money brought in from harbor users, costs of operating and replacing docks and floats and long term needs.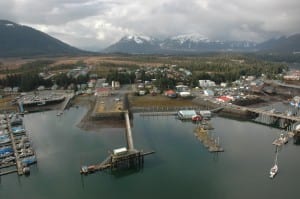 The group talked about better recognition in the waterfront master plan for remote facilities in the borough, like boat ramps at Papke's Landing and Banana Point on Mitkof Island.
Here's
"The plan needs to be encompassing of the other uses at some of the other facilities as well as the harbor itself," said borough manager Steve Giesbrecht. "Recognize they exist, recognize that they have economic value. We don't have to have solutions to funding necessarily but recognizing that there is going to be a funding problem down the road."
The planning group also mentioned other existing remote docks at Point Aggasiz, Kupreanof and Entrance Island in Hobart Bay. Planning team member Rick Braun thought the borough had to look into fixing or maintaining some of those sites. "Places that people are using, public facilities out in these areas can see really need some improvements here. The ramp at Papke's, you just cannot use that thing anymore."
The consultants said they'd heard from Papke's area residents who have been collecting money to pour concrete to fix the boat ramp there. But they pointed to Papke's as an example of a remote site that the borough might have to take a greater role in improving in the future. Petersburg has purchased land from the Alaska Mental Health Trust for parking there but the dock, ramp and tidelands are still owned by the state.
Harbormaster Glo Wollen wanted the master plan to identify areas in the borough that could be future harbor sites. "It would be really nice to say in this, even if it's just a recommendation, you should start talking about where there's common public facility opportunities and start saving those," Wollen said.
The group also got into a discussion about funding for remote projects as well as the representation in the Petersburg borough for residents outside of service area. Agnew Beck's Shelly Wade summed up that feeling. "So whether or not you feel like it's justified or not, it's what people are feeling that there is not representation at the assembly level and potentially in these other committees or boards that is representing the interests and needs of folks that live outside of service area one."
Others in the group countered that that representation was already there with three of the six current borough assembly members living or owning land outside service area one, along with half of the current planning and zoning commission members.
Kupreanof mayor Tom Reinarts pointed out that revenue has increased because of the formation of the new borough. He addressed borough manager Steve Giesbrecht while pointing to property tax from remote residences and businesses, new sales tax and bed tax money from businesses outside of the old city limits as well as expanded payments to the larger municipality. "So there is a substantial amount of money that was generated by borough formation," Reinarts said. "And that's where the credibility is. What happens to that? It all gets just funneled into service area one and here we are getting nothing. Steve that's a real thing out there. Not only with people outside of service area one but with people inside of service area one."
The comprehensive plan attempts to paint a picture of the borough's revenue and where that money is spent. But planning team members agreed there needed to be better communication between the borough and residents in outlying areas. Some ideas were regular meetings with Petersburg's assembly and the city council in Kupreanof – or the formation of local community councils that would bring their issues before the Petersburg assembly.
Reinarts also said he saw a huge red flag in the recommendation of the harbor master plan for large harbor rate increases to pay to replace the docks and floats in Petersburg.
Other discussions centered on issues right in the downtown area. The comprehensive plan may be recommending the creation of an historic commercial area around Hammer Slough and Sing Lee Alley. This zone could require that new buildings be designed to fit in with the historic buildings already there.
"You can do a variety of things there," consultant Chris Beck explained. "You can commercial uses, you can have residential uses, you can have multi-family but the form of the structures that house those uses ought to have a historical feel in the size and in the structure. But behind that is this is potentially a way to get people to spend more money in your town because people love walking around in places that have the character that this does. Everybody would probably say the most photographed spot in Petersburg is probably right there."
Beck noted there's nothing in local zoning code today to require certain types of building around Hammer Slough and the area could lose its historical feel if too many large modern structures are built.
It's been a topic of discussion in the past in Petersburg. But Rick Braun pointed out the desire to require certain types of building in that area has not risen above the private landowners right to build what they want on their land. "Who's gonna say that my opinion in what's gonna look great here is not the right opinion? That's stronger," Braun said.
The consultants also heard about the need to plan for disaster planning and food security for the local population.
Wednesday is the deadline to comment on these two planning documents.