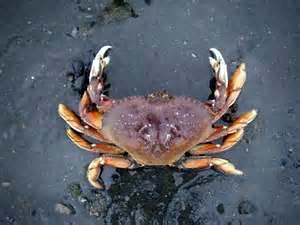 Commercial crabbers are out fishing again this month for Dungeness crab in Southeast Alaska. The numbers are in for the summer crab fishery and it looks like it was a pretty average season.


This year's summer harvest might seem a little so-so if you're comparing it to last year. But then 2014 was unusual. It saw a record harvest of 4.06 million pounds.
This summer's harvest was 2.69 million pounds and that's pretty normal. It's a tad over the average seen the last five years and a tad under the ten year average.
There were also more crabbers fishing this summer. One hundred ninety-five permit holders participated in the fishery while last year it was 163.
"So this season, harvest was down but effort was up," Stratman said.
Joe Stratman is the lead crab biologist for the Southeast region. He'd heard that some crabbers didn't haul in as much as they had liked this summer but following last year that's to be expected.
"Naturally, people were a little bit disappointed at what they got this year," Stratman said. "But from what we've heard, crab quality was good. You know, we had nice hard-shell crab right at the start of the season. So what we heard on that front anyway things were looking good. Other than that, the price stayed the same this year as last year so the price is still good."
Dungeness brought an average of $2.99 a pound, the same as last summer. That brings the summer season value in Southeast to $8 million about 4 million less than last year.
Stratman says it's pretty typical to see fluctuating seasons in the Dungeness fishery.
"Last year was a historically high harvest, maybe in the top three so we had a really, really good season last year but it appears this year that we have more of an average season in terms of harvest," Stratman said.
The largest harvest and the largest participation in the fishery happened in the waters around Petersburg and Wrangell. District 8 had 84 permits fishing and they brought in a total of 660,000 pounds. The second highest harvest happened in District 11, around the Stevens Passage area, which saw 454,000 pounds. District 6 including Duncan Canal, part of the Wrangell Narrows and Sumner Straight brought in 326,000 pounds. District 6 had the second highest permits at 44. District 10, which includes the Frederick Sound area had the third highest participation with 27 permits fishing.
The Dungeness crab fishery targets males that are at least 4 to 5 years old that are not in the molting season when their shells are soft.
About 75 percent of the annual Dungeness crab harvest happens in the summer season. The season runs June 15 to August 15. The fall season started October 1 and runs through November. A few areas in Southeast also have a winter season.