The final tally is in for the local moose hunt near Petersburg, Wrangell and Kake. 103 bulls were killed in the month-long hunt which closed Thursday. Hunters had five more days to check in their moose.


This year ranks as the 3rd highest harvest in the 22-year history of the moose hunt.
Kupreanof Island was once again the highest moose producer with 40 moose kills followed by the Stikine River drainage with 22. Mitkof Island had the third highest harvest with 16 kills.
More illegal moose were taken this year than in any other year in the hunt. Thirteen kills failed to comply with antler restrictions, which are in place to protect middle age breeding males.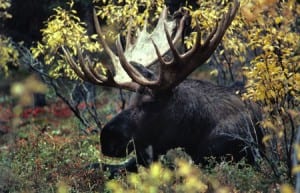 Rich Lowell, Area Wildlife Biologist for the Alaska Department of Fish and Game, says managers rely on the antler restrictions and a month long season because they don't have enough information on the moose population to use other methods such as harvest quotas. They can't conduct traditional research like aerial surveys. The local forest is just too dense to see through except for the Stikine River drainage.
Lowell says information gathered from mandatory hunt reports provides valuable data on the distribution and intensity of hunting effort, success rates, and anecdotal observations by hunters.
Slightly less than 1000 people registered to participate in this year's moose hunt. However, not all of those hunters actually got out there. The total number of active hunters and the overall success rate will not be known until all hunt reports have been checked.
Anyone who obtained a permit must submit a complete hunt report even if they did not hunt.
Completed hunt reports can be dropped off or mailed to at any Fish and Game office. Those that did not hunt and those that hunted unsuccessfully can report their hunting activity on line.
Failure to submit a hunt report in a timely manner can result in a person being denied the opportunity to hunt next year.
Below is the geographic distribution of the 2015 moose harvest:
Kupreanof Island 40 includes 4 illegals
Stikine River 22 includes 2 illegals
Mitkof Island 16 includes 4 illegals
Thomas Bay 10 includes 1 illegal
Kuiu Island 3 includes 1 illegal
Farragut Bay 3
Wrangell Island 3
Zarembo Island 2 includes 1 illegal
Etolin Island 1
Virginia Lake 1
Woewodski Island 1
Wrangell Mainland 1
Total: 103 includes 13 Illegals