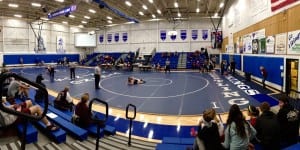 Petersburg High School took third place in the 2A Regions Championships tournament this weekend. Craig took first place and Wrangell second. Petersburg hosted the tournament which brought in 15 teams and about 180 wrestlers from throughout Southeast. It was actually three tournaments in one: the 1, 2, and 3A tournament for the boys, the 4A for Ketchikan, Thunder Mountain and Juneau, and a separate girl's tournament.
Dan Van Swearingen is the high school wrestling coach. He says Petersburg wrestled well taking third place in the 2A.
Six Petersburg wrestlers are headed to the state tournament this coming weekend. The event is in Anchorage at the Bartlett and Chugiak High School. Wrestling will run all day Friday and Saturday.