Petersburg High School's boys basketball team beat Hutchison a 3A school from Fairbanks today 59-35 and the Vikings play again tomorrow afternoon at the Clarke Cochrane Christmas Classic in Ketchikan.
Today's game was close for the first half. The Vikings trailed 11-9 after the first quarter but had a 26-24 lead at halftime. Then Petersburg scored 19 points while Hutchison went scoreless in the third quarter and the Vikings led 45-24 after three. Stewart Conn finished with 19 points for the Vikings, including 13 during that third quarter. Wolf Brooks added 12 points.
Petersburg plays either Metlakatla or Scappoose Oregon Wednesday at 2:15.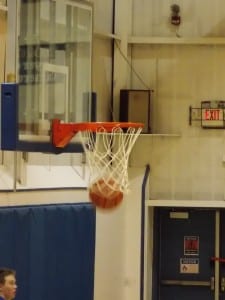 To start out the tournament on Monday, the Vikings lost 53-34 to Mountain View, a 3A school from Auburn, Washington. The Vikings also lost their game December 26 to the 4A Ketchikan Kayhi Kings 64-48.
The Petersburg girls team plays Palmer this afternoon at 4 after winning their opening round game over the Ketchikan JV 50-20 on Monday.
KFSK is broadcasting the games live from Ketchikan.