Petersburg's borough assembly Monday voted to advance a budget for the upcoming year that funds most of the money requested by local community service organizations. Borough officials acknowledged they'll most likely have to redo the spending plan once the state legislature decides on funding cuts this spring.


Most of the discussion on the borough budget for the fiscal year that starts in July has been over the one point nine six million dollar community services portion of the borough's general fund. Most of that money goes to the school district, but some goes to fund KFSK, Petersburg Mental Health, Mountain View Manor food service and the Clausen Museum. This year the assembly also is considering a new request from Working Against Violence for Everyone, or WAVE. That domestic violence victims organization asked for 46,000 dollars and the assembly came up with a plan to fund 25,000 of that request.
"We greatly appreciate you guys even considering us for funding," said WAVE director Annette Wooten. "If we were to get 25,000, it still does leave a gap which means we need to make changes. Likely that would mean we would have to find another funding source or we have to cut my position."
WAVE has sought the borough funding this year because the organization's state grant money runs out at the end of June. The group is hoping to hear about a federal grant application by September.
The assembly also heard words of caution about big question marks in the borough's spending plan. Chamber director and former assembly member John Havrilek referred to several bills proposing to increase the share that municipalities, school districts and the Petersburg hospital would have to pay into employee retirement systems. "And I'm just worried that we may not be fully prepared because a lot of people, Alaska for the last 30 years has been a handout state and we're going to have to do an 180 paradigm switch, which no one's going to be comfortable with where instead of getting money we're going to have to be giving a lot of money," Havrilek said.
The legislature was planning to take testimony on those bills this week along with a proposal to cut municipal revenue sharing but cancelled those public input sessions. The Alaska Dispatch News reported Monday those bills have been put on hold because legislators have learned they may not be needed this year.
Borough manager Steve Giesbrecht said the proposals would have a combined impact of 2 million dollars on the borough, school district and hospital. "We have not taken that into account in our current budget other than the community revenue sharing," Giesbrecht said. "We really recommend that we don't. There's no reason to go change things that we don't know what's going to happen. I think this is going to be one of those years that the Senate and House are probably going to have to do an extended session. If in fact more cuts come our way we would come up with answers to that, bring it back to the assembly and do a supplemental budget."
Mayor Mark Jensen agreed the borough would likely have to revisit its spending plan after the legislative session. "Depending on what the state does I can see a supplemental approaching coming down the road and how we're address that I guess we'll know when we see what they do," Jensen said.
"I mean that's the problem," agreed Giesbrecht. "I don't want to over-react and cut services and stuff in the community and then find out, oops, we didn't have to or we cut too far."
Assembly member Eric Castro wanted to fully fund the request from WAVE. "The growth in use from the previous two years and having 11 (calls to WAVE) as of late January, it just seems that the community is becoming really aware of how valuable a service it is. I see it as a, it'd be a loss to the community if we lost the full-time director and the ability for the citizens to be able to have an outreach at hand, a full-time advocate."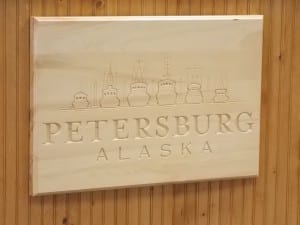 Cindi Lagoudakis, attending by phone, sounded a note of caution for the community service organizations. "The only thing that folks are going to have to do in the next year and not just WAVE and not just Mental Health but all of our non-profits is look for ways to collaborate and maybe change their missions a little bit, because the money is just not going to be there to be able to support all of the things we've had in Petersburg up until now," she explained.
Mental Health this spring agreed to take 10,000 dollars less than originally requested in order to help the borough fund WAVE. Also KFSK asked for an additional 11,000 dollars this year because of funding cuts from the state, for a total of $19,000.
Giesbrecht noted the borough's budget is currently balanced, with a 90,000 dollar contingency in the general fund and a surplus of around 23,000 dollars. Spending in the general fund would be 9.6 million dollars and that same amount of revenue from local property and sales taxes and other sources. The manager explained the assembly is not setting anything in stone by approving a budget.
Finance director Jody Tow agreed and said organizations might not be able to count on the funding levels set in this budget. "So just for the community services out there just because your budget gets approved in the third reading doesn't mean necessarily it's still going to happen," Tow said. "There could be a supplemental that changes it in July or August."
The assembly didn't make a changes to the spending plan and kept the WAVE funding at 25,000 dollars for now and the other commmunity services requests intact. The assembly passed the budget in second reading by a 6-0 vote, with Jeigh Stanton Gregor not at the meeting. It'll take one more reading in early May to approve this version of the budget.