Emergency crews responded to a car wreck just behind the community gym Thursday morning – thankfully, this one was just a drill. Local middle and high school students watched as fellow students played the part of accident victims while educators and police tried to drive home a message about the horrible consequences of distracted or drunk driving. A warning about this story, the sounds of accident re-enactment may be disturbing to listeners.


Students in grades eight through 12 watched as a police car, ambulance and fire engine pulled up to the scene of a head on collision staged in the parking lot near the community pool. The vehicles were junkers moved into place by the borough's public works and sanitation department. Three seniors Tucker Hagerman, Adanna Kvernvik and Kylie Wallace played the part of one dead and two injured in the crash.

The demonstration involved about 15 volunteers from fire, emergency medical and search and rescue, along with the Petersburg police department. Volunteers used the jaws of life to remove the top off the car. Kyle Clayton played the role of the drunk driver, and was taken away by police at the scene while the fire department's Dave Berg narrated.
Family of the three students were held back by police officers and watched as the ambulance crew tried to revive one victim.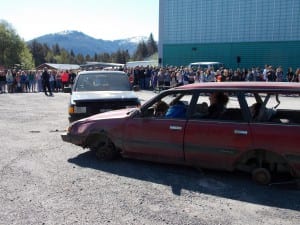 After, students filed into the the auditorium and watched several videos, one from the
Taylor White Foundation
. White was killed in a drunk driving accident June 5th 2009, days after he graduated from Juneau Douglas High School.
Petersburg police office Corey Rowley told the students that he lost four high school friends to a driving accident. "60 miles an hour through a residential area past the highway where speeds were 55 miles an hour, didn't even stop, blew the stop sign, went to go hit the railroad tracks and hit a train head on," Rowley said. "All four were killed. Those were my friends. So when I talk to you about zeros, I was that person that walked by the truck that didn't say anything."
Rowley told the students that nation-wide statistically a school the size of PHS would have a driving fatality. He challenged the students to beat those statistics. "Hey I get it. I've seen the pallets in the back of the truck going out the road. I know you guys know where that border is where we don't patrol. I've talked to you before when you have the pallets in the truck, I know, I see some of you out there that I've talked to when you're heading out the road, OK. Be smart. When you get out there and you're participating in things you don't wanna participate in town because you're afraid the cops are gonna show up be that hero. Be that here that puts your foot down and says hey, no way, I'm not gonna drink and drive."
Principal Rick Dormer agreed that Petersburg has been lucky. "When I was 8 years in Portland, we lost kids every year. And it wasn't always drunk driving. Sometimes it was just bad decisions. We were 20 minutes away from Interstate 5 and highway 26. Traffic fatalities we almost a yearly thing, that and a combination of gang violence. So, we lost kids every year. It is amazing our retired teachers are saying how lucky we are just that we don't lose kids. Mostly because we have great kids, who usually make good decisions and we have a lot of people around us all the time they care about us, not just that random person, random adult that see what we're doing and try to help us out."
Dormer and counselor Rachel Etcher encouraged students to talk with someone about the mock crash. Sophomore Joey Giesbrecht described the morning like this. "Traumatizing in a good way because it definitely did I hope it at least did show some other students around here that it is important and you know you shouldn't drink and drive. It's just something you just shouldn't do. There's no exception. Oh I'm a good driver, oh I can drift, it doesn't matter, you don't wanna try to beat the odds."
PHS staged a similar mock crash in 2011.