Without any challenger for his seat this October, Petersburg borough mayor Mark Jensen will be continuing on in that role for another three years.
The 60-year-old welder and commercial fisherman has been mayor of the borough since the start of the new expanded municipality in January of 2013. Before that he served on the council for the city of Petersburg and filled in for as city mayor when needed.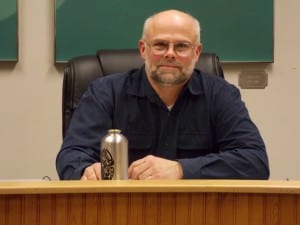 He said it was not an easy decision to run for re-election this year.
"Yeah I thought about it for quite a while," Jensen said. "Six months ago if you would've asked me I probably would've said I wasn't going to run again. There's been a lot of stuff going on I'd like to be a part of, you know the budget situation and there's a few projects I'd like to see completed and be mayor when they're done. I enjoy it; it just takes a lot of time."
It's a busy time for the borough government with numerous projects underway, marijuana business under debate and a multi-billion dollar state budget crisis.
"We're just gonna have to take it one step at a time as the state develops their budget plans and see what we have to do to adjust to that," he said. "Hopefully we can keep doing business as usual. Even though we've got a lot of projects going on in town right now, the bulkhead at the drive down dock, the municipal building, nice new road that just got paved. I don't think we're gonna see that kind of activity in the near future because of the funding situation."
Jensen said he's talked with others about a run for state office and says that could still be a possibility in the future. For now, he's content serving as the borough mayor for his next three year term.