As other schools around the state are welcoming students for the new year, one school in a small village on Prince of Wales Island in Southeast Alaska will not be opening its doors.
The school in Port Protection on northern Prince of Wales isn't open this fall, because of a lack of students.
"You know it's a small school and it's isolated on the north end of the island," said superintendent Lauren Burch of the Southeast Island School District, which operated the school. "I think we had five graduates this year and it pretty well cleaned out the local kids. There was a teacher family that had a large number of students and there simply weren't any local kids left for the school. With that big a graduation rate we could have maybe gotten to 10 to keep it open but I couldn't sustain it with the kids that were born and raised there."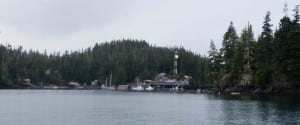 Burch said there are no school age kids remaining in the community but he said the school district still owns the school building along with a floating gym.
"You know we're still maintaining that and running heat periodically to keep things safe," Burch said. "So there's a cost involved in maintaining that and a modest gym. And you know if we do see some students re-appear we will find a way to get it open again."
Burch said the school building was originally from a logging camp at Rowan Bay on Kuiu Island and was towed there in 1996. The gym building, part of a Gildersleeves Logging camp, was floated there in 2006. In recent years, Southeast Island School District also closed schools in Edna Bay and Meyers Chuck. It has other schools open around Prince of Wales.
Burch noted that discussion in the legislature of raising a minimum threshold for funding small schools makes people wary to move to small towns where the risk of school closures is possible. The students at Port Protection school last year posted an online video highlighting the importance of schools in a small town.
Port Protection has a population of 54, according to the latest state estimate. It is accessible by boat or floatplane only. It has a grocery and fuel store and fish buying station, although the owner of that store and long-time pillar of that community Jack Mason died this summer.