The Petersburg Children's Center started up the new school year September 1st with expanded space and room for more kids. That's thanks to donated money, labor and materials from individuals, organizations and businesses in town.


The pre-school and day care is filled with the sound of singing and activities again; it welcomed kids back September 1st.
The center's director Brandi Heppe said it was iffy whether they'd be able to open the new classrooms for kids by that date. "It was a crunch to get our license by September 1st but we got all the paperwork in like we were supposed to and everything and we got the word that Friday before September 1st that we were able to open," Heppe said.
Work started on the expansion in December and it's been completed by volunteers and donations. Two local residents especially have spent long hours volunteering their time. "Yeah Bob Lynn and Jim Schwartz have been the spear headers of the entire building part of it," Heppe explained. "But we've had, a lot of the community has donated money and a lot of other businesses have helped give us cost cuts for materials or services and then a lot of volunteers of programs, we've had Rocky's Marine and the Coast Guard come in and a couple other groups show up and help."
The budget for the added space is estimated at somewhere around 130,000 dollars. The center has received cash donations for some of that, along with donated labor, equipment and building materials. The expansion allows the center to grow from 42 to 65 kids and cut into the long wait list. Heppe said there are still parents waiting to get their children enrolled. "After we added kids we still have a wait list because we're still looking for more people to come work so we can add more kids to the classrooms."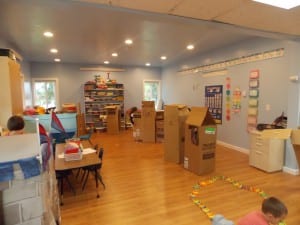 During the work day the center serves children six weeks old to prekindergarten and also runs an after school program for kids kindergarten through sixth grade called Eagle's Nest. The daycare and preschool celebrated its 40th year in 2015.
Heppe said there's still more work to do later this year. "Well we're waiting for cubbies to get in cause you know shipping to Alaska takes a while. We just got our changing table in, we got our tables and chairs in. This fall Jim and Bob are going to come back and they're going to redo the kitchen and the kids bathroom and a few more things around here so we still have a few more things to do."
She said kids had fun with the builders around last year and got used to seeing Schwartz and Lynn working on the expansion. The center will show off the expanded space in an open house sometime later this year. "We wanna be able to open it up so people who used to work here or people who had their kids here be able to come see it," Heppe said. "But we wanna be able to make sure we have all of our furniture and our classrooms completely put together cause we're still working on getting the classrooms finished."
The children's center is done expanding the existing building but could one day build a new structure for the Eagle's Next program on the lot next door.