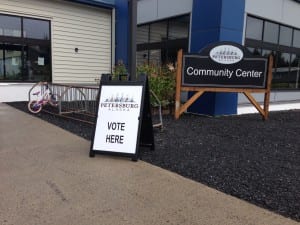 Petersburg voters got what they wanted in the general election for the most part. Local voters favored Republicans across the board except for the House 35 race where they leaned Democrat.
The Petersburg-Kupreanof precinct had a 39 percent voter turnout at the polls yesterday. That equals 1,078 ballots that were cast.
Here's a break-down of the results for the most competitive candidates:
Petersburg strongly favored Republican Donald Trump for President. About 54 percent of voters voted for him or what equals 577 voters. Democrat Hillary Clinton took about 31 percent of the vote with 334 voters voting for her.
Local voters also had overwhelming support for Republican incumbent for U.S. Senate, Lisa Murkowski. She took nearly 56 percent of the votes. Libertarian Joe Miller came in next with 21 percent of votes. Non-affiliated Margaret Stock came in third with 12 percent of votes. And Democrat Ray Metcalfe took 10 percent of votes.
For the U.S. Representative race, Republican incumbent Don Young took 51 percent of local votes. Democrat Steve Lindbeck took 32 percent and Libertarian Jim McDermott took 12 percent.
The only Democrat who had majority support in Petersburg was State Representative Jonathan Kreiss-Tomkins. He took 54 percent of the votes. Republican challenger, Sheila Finkenbinder, took 45 percent of the votes.
State Senator Republican Bert Stedman ran unopposed for District R.
As for the two ballot measures, Petersburg strongly supported automatic voter registration as did the rest of the state. It will automatically register people to vote when they file for their PFD unless they opt out. Petersburg voters favored the measure with 68 percent yes votes.
Petersburg narrowly supported the other ballot measure which would have allowed the State to borrow money to help reduce interest rates on student loans. Petersburg favored the measure with 51 percent yes votes. But statewide voters rejected the measure.
As for the several judges on the ballot, Petersburg voters supported retaining all of them.
These local results do not include early or absentee ballots, which are calculated by House District.