Craig High School volleyball won the 2A state title at Dimond High school in Anchorage Saturday beating Southeast rival Petersburg to take the crown. Petersburg winds up second in the state this year.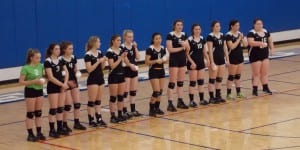 The Panthers beat the Vikings in four games Saturday night. Petersburg won the first game 25-21 but Craig won the next three 26-24, 25-19 and 25-21.
Petersburg lost to Craig Friday night but then beat Su Valley a second time to earn another shot at the championship.
Joe Viechnicki spoke with coach Jaime Cabral for a look back on the state tournament and the season.


Two Southeast schools won state titles in volleyball this year with Craig taking the 2A crown and Mt. Edgecumbe repeating as 3A state champ.