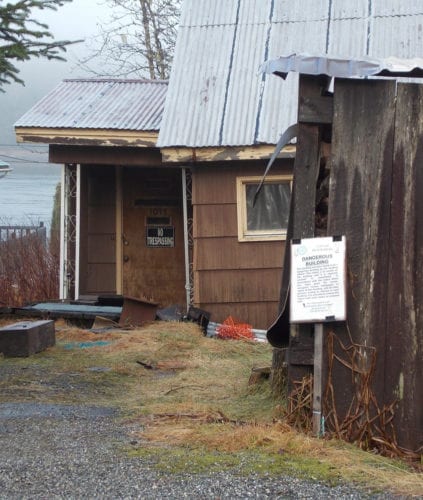 A lawsuit over the search of a home slated for demolition on Wrangell Avenue in Petersburg will not be going to trial this month. A superior court judge has dismissed the case and found that the Petersburg borough did not violate the rights of the property owners in preparing to tear down the structure.
The 2014 demolition of a vacant home at 1011 Wrangell Avenue generated two lawsuits from the property owners Karen Ellingstad and husband Fred Triem. The owners had the aging structure taken down after the borough assembly in December of 2013 declared the structure a dangerous building and ordered it fixed up or removed. The foundation of the home had failed in 2009, leaving it resting on toppled pilings.
This suit challenged two administrative searches of the building done by borough staff. The borough's public works director and building official in early 2014Karl Hagerman and then building official Leo Luczak visited the structure, took photos and a sample of a floor tile, which later tested positive for asbestos. The borough wanted to find out if an asbestos abatement contractor was needed if the borough ended up taking down the building.
In this case, Ellingstad argued the visits by borough staff violated the fourth amendment of the U.S. Constitution which aims to limit unreasonable searches and seizures by government. The borough's attorney Jim Brennan argued the searches were reasonable and did not require a warrant. In his April 28th decision superior court judge William Carey sided with the borough. Carey writes that "Ellingstad did not have a reasonable expectation of privacy with respect to the conduct of the borough in conducting the very limited search of the long-uninhabited, derelict building."
The case was scheduled to go to trial this month but Carey dismissed the lawsuit.
Following the ruling, Ellingstad said she filed the lawsuit on principle because she did not think the borough had the right to search her building without her consent. She did not know whether she would appeal the decision. Borough officials and the borough's attorney declined to comment.
Meanwhile, another case remains undecided. That's the home owners appeal of the borough's decision that the building was dangerous in the first place. A superior court found in the borough's favor in that case but Triem and Ellingstad have appealed to the state's supreme court, which has yet to release a decision on that case.