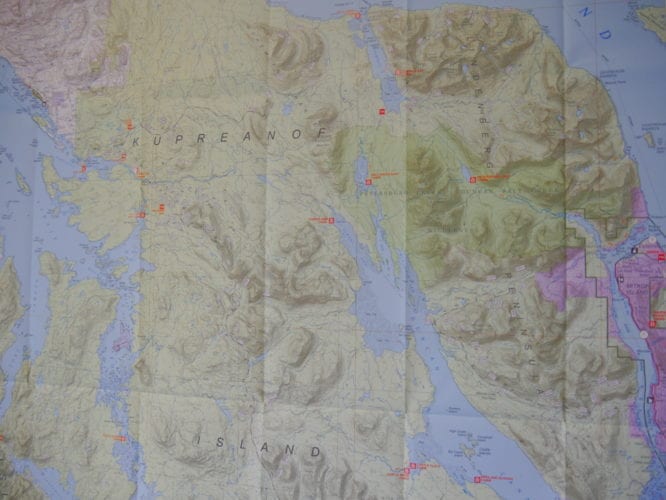 The U.S. Forest Service has released a new map for the Petersburg Ranger District.
The map covers Mitkof, Kupreanof and Kuiu islands and the 1.6 million acres of National Forest on the Petersburg district. It replaces three older two-tone maps of the area with one new chart with color shading showing mountain contours.
Joe Calderwood, the agency's cartography program manager for the Alaska Region, said this map also has updated topographic information from a state and federal collaboration.
"It's called the state digital mapping initiative and we're getting new elevation data through that program and that's being used on these new maps to create new higher quality contours," Calderwood explained. "So these maps are a definite upgrade from what we've had before."
The latest offering is up to date on land ownership in the area and shows roads, trails and recreational cabins. It replace 1990s vintage maps. Calderwood said the Forest Service is trying to get new maps published for the whole 16.8-million acre Tongass.
"We've pretty much taken care of all the major areas of Southeast, with the exception of we're still working on the Ketchikan area, we have a map in progress for Ketchikan," Calderwood said. "And also the north part of the Juneau Ranger District is currently not programmed but most of the rest of Southeast Alaska is now, the Tongass National Forest, have these newer version maps."
The maps cost $10. They're available at the Petersburg Ranger District office and other Forest Service offices in Southeast as well as online at the National Forest Map Store and the USGS store.