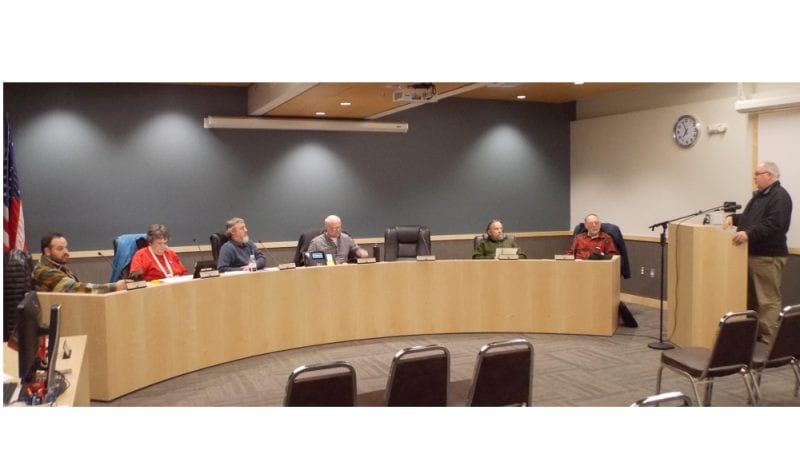 The Petersburg borough has rejected applications for the recall of four borough assembly members. The borough's attorney has recommended against issuing recall petitions and defended the assembly's decision to meet in May behind closed doors.
At issue was a May 30th meeting by the borough assembly where assembly members voted to hold a closed-door executive session to discuss the reorganization of borough department heads following the retirement of Petersburg's electrical superintendent.
In early July a group of local residents turned in applications seeking a recall petition for assembly members Jeigh Stanton Gregor, Nancy Strand, Kurt Wohlhueter and Eric Castro. Mayor Cindi Lagoudakis and assembly member Bob Lynn were not the subject of recalls because they're nearing the end of their terms and cant be recalled under state law. Likewise new appointee Jeff Meucci is nearing the end of his appointed term. He was also not on the assembly yet for that May 30th meeting.
The applicants alleged the meeting violated Alaska's Open Meetings Act because the reasons given for the closed door session were not specific enough and did not qualify for executive session under state law.
Borough attorney Sara Heideman disagreed with that contention. In a six-page opinion on July 24th, Heideman cites past legal challenges on recall applications in Alaska. Heideman writes that she advised the assembly that it could go into executive session and suggested the language of the motion to go into a closed meeting. She writes, "Courts in other jurisdictions which also have 'for cause' limitations on the recall of public officials have held that public officials who rely on legal advice in connection with open meetings laws have not committed recallable offenses." Heideman recommended that the grounds for recall be found insufficient and that recall petition should not be issued.
Borough clerk Debbie Thompson agreed with that recommendation and notified the application sponsors July 24th that she would not be issuing petitions for recall.
Gary Morgan is the prime sponsor on the recall effort. He said the sponsors of the applications will be meeting to decide their next steps.
"You can pretty much decide what way you wanna lean based upon different court decisions," Morgan said of the case law cited on the issue. "So, what their attorney sent made sense. So, at this point we're going to talk to our attorney. We're gonna meet as a group and decide what we wanna do, whether we want to fight this first recall issue or if we want to file a new recall petition."
Another option for the group is to have some candidates run for office this October. Morgan thinks that may be the best option for a group of borough residents who don't agree with the current borough assembly.
"Maybe we'll just wait and see how the next election goes and put our efforts into re-electing and balancing out this assembly," Morgan said. "Our big concern is that the assembly isn't listening to the citizens and representing them fairly."
The month-long filing period for local candidates opened July 25. Voters will be deciding on the borough's next mayor along with two other seats on the assembly.