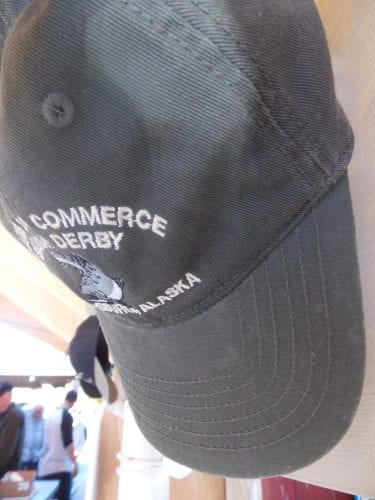 Historically low returns of king salmon will mean no sport fishing salmon derby in Petersburg this Memorial Day weekend.
The Petersburg Chamber of Commerce board voted Thursday, February 1 to cancel the four-day event this year.
The Alaska Department of Fish and Game plans to close all of district 8 waters to king salmon sport fishing for all of May, June and half of July. Those are a big portion of the waters normally open for derby fishing. The measure is meant to protect kings returning to the Stikine River near Wrangell.
"We really took that into consideration that perhaps we wouldn't put more pressure on the stock and allow it to have a year reprieve and we'll see how it is doing next and whether we can have one again next year," said chamber director Mara Lutomski.
There was a partial closure of some of the same area during last year's derby and some discussion in 2017 of cancelling. Lutomski said last year's ticket sales were down because of the closure and lower numbers of kings.
The annual event awards cash prizes totaling 18,000 dollars. Hundreds of locals and out-of-town visitors fish the derby. Anglers also spend their money at local businesses on fuel, food, fishing gear and boats to name a few things.
Lutomski said the chamber surveyed its members about this year's event. "Of the surveys that we received back we got about 50 percent saying yes and 50 percent saying no and we assume that was probably going to be the same feeling within the community that 50 percent of the people would say yes let's have it, while another portion of the community would be saying no. So we took it as it was. We're going to err on the side of caution this year and hopefully we'll be able to bring it back next year."
Both of the last two years have set new records for the smallest king to win the derby. Anglers weighed-in just 200 fish in 2017, the 36th edition of the event.
Other derbies elsewhere in Southeast this year may be cancelled. Wrangell plans a limited version of their month-long competition.
Petersburg's chamber is also talking about holding some other community event for the Memorial Day weekend.
In related news, Fish and Game also just announced the planned closure for the commercial winter troll fishery, just before midnight on Thursday, March 15. That was part of the action plans approved by the Board of Fish at its January meeting in Sitka. Other area specific closures are also expected for the spring troll fishery as well.