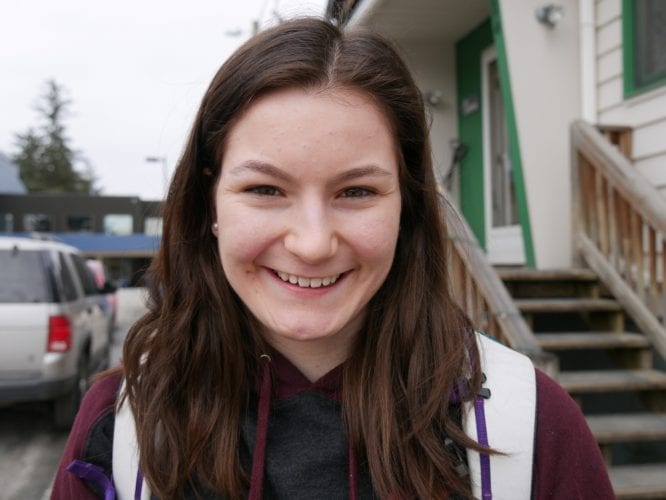 Petersburg High School held another noise parade this week for a state championship, but this one wasn't for a sports title. PHS senior Elisa Larson this month won the statewide Poetry Out Loud competition in Juneau.
The annual competition is held at regional, state and national levels. High school students choose poems from an anthology, recite them from memory and are scored on their performances in three rounds of competition.
Larson at this year's state competition recited "Mingus at the Showplace" by William Matthews in the first round. He second round work was "Friendship After Love" by Ella Wheeler Wilcox and in the final round she recited "Spanglish" by Tato Laviera. Larson was runner up in the state event last year. This year she took top honors. The top spot wins an all-expense paid trip to Washington D.C. to compete in the national finals, however, Larson's senior year schedule is too busy to allow her to go. Instead, this year's state runner up from West Anchorage High will go to the nation finals in her place.
Larson does receive $200 for first place and Petersburg High gets a $500 stipend for the purchase of poetry books. By the way, that's Larson's second state title this year, she was also on the 2A champion volleyball team in the fall.
In Alaska the state Poetry Out Loud competition is put on each year by the Alaska State Council on the Arts, National Endowment for the Arts, the Poetry Foundation, Alaska State Writing Consortium and the Juneau Arts and Humanities Council. The national finals are April 23rd-25th at George Washington University.