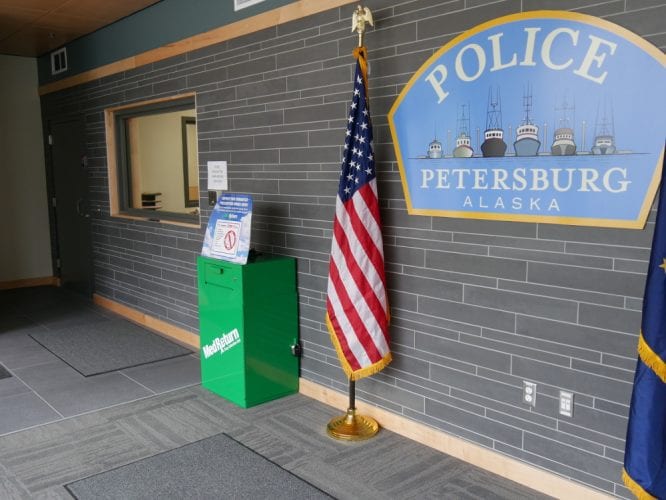 Four applicants, three from out of town and one local candidate, are interviewing this week to be Petersburg's next chief of police. The finalists have a mix of experience in large and small community law enforcement.
The borough flew in three out-of-town applicants and their wives in for a visit and interviews.
54-year-old Steve Lewis is a detective sergeant in the sheriff's office in Klamath Falls, Oregon. Lewis explains his grandparents planted the seed of moving to Alaska. They worked in logging camps in Kake and Tenakee Springs while he was growing up.
"You know when they came home for the wintertime they'd always tell me the stories of how beautiful they area was and how much they loved Alaska and really would have liked to have lived here full time but it never worked out for 'em," Lewis said.
Before his policing career, Lewis got started doing heavy duty truck repair and driving logging trucks. He got his start in law enforcement as a reserve deputy with the Klamath County sheriff's office in 1987. He worked in corrections there before moving to policing. Lewis started the canine unit in his department, using dogs for bomb detection but also doing public relations outreach for the police. He calls it one of the crown jewels of his career.
"I had the first dog cross-trained in patrol and explosive detection," he explained. "It was the first one in Oregon outside of Portland International Airport that was trained and certified for explosive detection. Had two canines, loved every minute of it. Working with a dog, unless you've done it and it's something you're really passionate about it's kind of hard for some people to explain."
Lewis ran a campaign for Klamath County sheriff in 2016 but was not elected. He ran that campaign while working the graveyard shift and with a laugh said he doesn't recommend someone running for office while working all night.
Two of the applicants are visiting from Colorado.
60-year-old Joe Gasper lives in Glenwood Springs and is a sergeant with the Basalt Police Department. Before that he worked for the police department in Saint Petersburg, Florida as a police officer and senior detective in the special victims unit. While there he worked with the FBI's child exploitation task force.
He says about a year his wife ago began to look into opportunities in Alaska.
"We've always wanted to be able to move up, either higher elevation, smaller towns, more land, just a quieter neighborhood," Gasper said. "And coming from a larger metropolitan area, it was a welcome relief moving to Colorado. And as I said a year ago, my wife Sherree started to look and we just became really, really interested in the possibilities of someday moving to Alaska. Petersburg was an opportunity we couldn't pass up."
He has a prior career in business and manufacturing and calls law enforcement his second career.
"I understand how businesses work," Gasper said. "I've operated them and was responsible for large organizations and smaller as well. I understand the pains of having to pay the bills and keep the lights on, maybe in larger scales or smaller scales. I understand the need for community members, business members and what their needs are. So it gives me an interesting perspective. It gives me background in fiscal management and understanding. It also, I've been experienced at negotiation."
Gasper and his wife have four grown children, with the youngest in college.
Another applicant from Colorado is 39-year-old Derek Bos of Colorado Springs. He owns a business that does firearms training, safety and security consulting and construction. He's hoping to get back into law enforcement and was drawn to the small town life of Petersburg.
"Chaffee County Colorado where we're from is a small town, small community, which I love, just the atmosphere," Bos said. "I love law enforcement in the small community, love the mountains, love the outdoor recreation and Petersburg offers all of that and then some."
Bos started in 2006 as a patrol deputy for the Chaffee County sheriff's office and worked his way up through the ranks to be under-sheriff of that department. He said he supervised a patrol department with a similar size staff to Petersburg and said he has the background for the job.
"I supervised not only patrol but also communications and a detention facility," Bos said. "Petersburg has all of those components. I have that experience and that background. I'm young. I am a family. I have a wife and three young kids and I think Petersburg is a very family friendly environment and so that also gives me the vested interest in the community."
Those three out-of-town applicants are up against 38-year-old Sergeant James Kerr of the Petersburg Police Department. He started work here in 2013.
"I've just grown to love this community and I have two children," Kerr said. "One's nine and one's eight and I'm just looking at the future and I want to make a positive impact on Petersburg for the upbringing of my children."
Before moving here Kerr was a police officer in Kingman, Arizona and started his career as a deputy with the sheriff's office in Mohave (mo-HAH-vee) County, Arizona. He said he'd like to implement more community outreach and involvement by local police officers, including more of a police presence around the schools and other contact with community members on a regular basis.
"In my old department we use to do coffee with the cops," Kerr explained. "I go down and have coffee with a group of guys. I get valuable information from them. And they also receive information that's not true so I'll straighten them out if they hear rumors around. So I'd like to implement some sort of coffee with the cops, where the community, I mean even if they don't wanna have coffee they can come in, just have time to speak with the officers face to face, express their concerns for their neighborhood."
The four finalists for the job met with community members Tuesday night and had interviews with the borough manager and a screening committee Wednesday. An offer could be made after the interviews, contingent on the applicant passing physical and psychological tests. The borough assembly could vote on the hire in July.

(Editor's note: the story has been corrected for the timeline for approval by the assembly.)