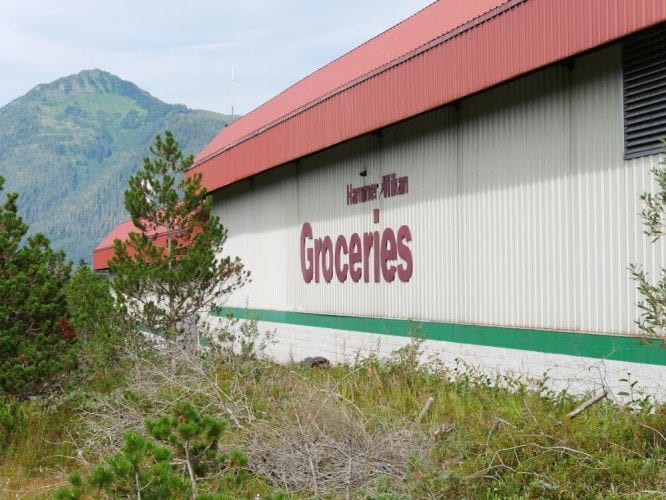 The shelves at the grocery store in some Alaska communities may be a little emptier than normal this summer and it's not because customers are buying up all the food. A national food supplier is having shipping problems from Tacoma, Washington. In Petersburg it's impacted the bottom line for a grocery store during its busiest time of year.
Hammer and Wikan Grocery is supplied by wholesaler company Supervalu, headquartered in Minnesota. Hammer and Wikan's general manager John Mason says Supervalu has been moving warehouses in the Seattle area and has been going through some challenges.
"Those challenges have resulted in product not getting on the barge, product not being sorted out and sent to the right location," Mason said. "All these things have come together, drop ships not being dropped, containers not making it to AML (Alaska Marine Lines) in a timely manner in order to make the barge, product missing the barge entirely, a tremendous amount of difficulty, which basically results in the fact that we cannot keep the shelves full because we can't depend on the supply and the distribution from our major grocery supplier."
Groceries are shipped to Petersburg and other island communities on Alaska Marine Lines barges. Mason said Supervalu's missed shipments have impacted most products in the grocery store from produce to meat to frozen food, deli and dairy products. Mason said the supply problems started at the end of March and have gotten worse into the summer. He and others with the store have been fielding questions from customers.
"Most people who do make comments are wondering why we seem unable to get the shelves full or keep them full and I wanted the general public to understand that it has nothing to do with our lack or desire or resolve to make this happen but unfortunately some of these things if not most of these things are out of our control," Mason expained. "We can only do what we can do and the rest of it we have to depend on our suppliers for and that has proven to be a hard find."
Mason said the issue impacts many stores in Southeast and Southcentral Alaska. For his store it has meant a loss in revenue during the busy season when fishing boats, cruise ships and local residents are stocking up weekly. Hammer and Wikan has secondary suppliers but those groceries have to come by air freight and Mason says the company is eating those extra costs.
"It's had about 300,000 dollar impact in sales since the first of the year and a considerable amount of profitability in what should have been our very best quarter of the year," Mason said.
Hammer and Wikan became a customer of Supervalu a little over a year ago when that company purchased another distributors called Unified Grocers.
In an email a Supervalu company spokesman writes in an email, "We've experienced some challenges with shipments out of our Tacoma, Washington distribution center as we transition out of another distribution center in that region. We're working closely with our customers to address any disruptions they have encountered. This is a top priority for us and we are working diligently to resolve the issues as quickly as possible."
Supervalu supplies a network of over 34-hundred stores nationwide and bills itself as one of the largest grocery wholesalers and retailers in the U.S. with annual sales of 14 billion dollars. The grocery supplier is in the process of being purchased by another company, United Natural Foods, based in Providence, Rhode Island.
(Editor's note: In the interest of full disclosure Hammer and Wikan is an underwriter of KFSK in Petersburg)