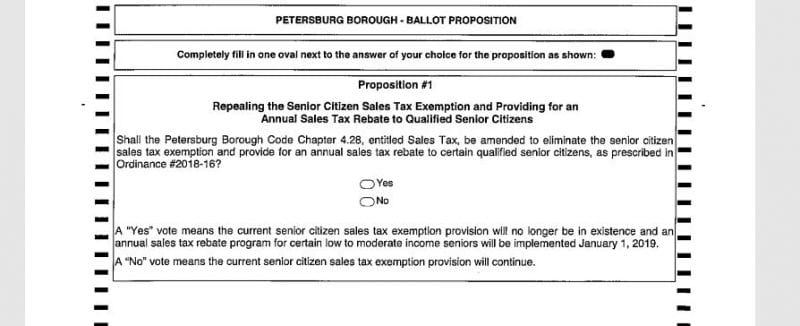 Petersburg voters will soon be asked to decide whether or not to end a senior sales tax exemption and replace it with a needs-based rebate program. Angela Denning has more on the ballot proposition, which has people speaking out on both sides of the issue.

Petersburg's sales tax is six percent. The ballot proposition would end a sales tax exemption for local seniors and start a rebate program that gives qualifying seniors a check for $300 a year and couples $450 to use as they want.
Currently, 574 seniors are sales tax exempt in Petersburg or eighteen percent of the population. That's too many people not helping pay for essential services, says a group of seniors bringing the ballot question forward.
Susan Flint is a spokesperson for the group. She was born and raised in Petersburg and says the young people are carrying the load these days. She says the proposition protects low income seniors and targets those with more money.
"This is to get the other three or four hundred seniors who have excellent, tier 1 retirements and a home in Palm Springs or Arizona or somewhere who pay sales tax there to get them to pay sales tax here and contribute their fair share because they can afford it," Flint said.
Sales tax makes up nearly one-third of the revenue for Petersburg's general fund. That fund pays for many borough services like parks and recreation, the library, police and fire, the local contribution to the school district, and borough employees. About $100,000 a year goes to helping run an assisted living home for seniors.
The senior sales tax exemption has been around for a long time, since 1980. Ted Smith was on the city council that approved the ordinance.
"It was a thank you to our senior citizens that had done so much for the community and out of respect for those senior citizens and future senior citizens that took this community seriously and spent most of their lives trying to help this community get better," Smith said.
Back then the issue didn't need to go to a vote. Smith says the seniors today still need the help.
"The senior citizens is the most vulnerable group of citizens that are here and there are numerous ones, even with this small rebate that they're talking about, won't be able to live comfortably, let's put it that way," he said.
The population in 1980 was the same as today, about 3,000 residents. But there were far less seniors. They made up about six percent of the population. Now, seniors are 18 percent of the population and that's expected to grow to 28 percent by the year 2032.
The borough estimates that $385,000 in sales tax was lost last year to the exemption. The figure isn't definitive because there's also a sales tax cap of $1,200.
If the proposition passes, the borough would no longer issue exemption cards to seniors and businesses would no longer keep track of those exemptions. Seniors who receive food stamps, Medicaid, low income housing, or the State's senior benefits program would all qualify for the rebate.
For the Borough Finance Director, Jody Tow, it boils down to numbers. She says the expense of running the borough continues to go up but state funding is going down.
"That's decreased about a half million dollars a year in the last few years and so it's important that our sales tax numbers, our sales tax revenue goes up," Tow said.
Tow says the rebate program would be easier for her office to manage than the current tax exemption.
"This proposition, if it passes, it will definitely streamline things for our office for sure," she said.
Seniors must live in Petersburg for at least a year to qualify for the sales tax exemption.
No matter the outcome of the vote, the senior sales tax exemption process will change somewhat. Starting in January, there will be a $100 administrative fee for each tax exemption card. That fee can be waived for low income seniors.
The ballot proposition will appear on Petersburg's municipal election ballots. The election is Tuesday, Oct. 2. Polls will be open 8 a.m. to 8 p.m. at the community center. Early voting is happening now through the borough clerk's office.