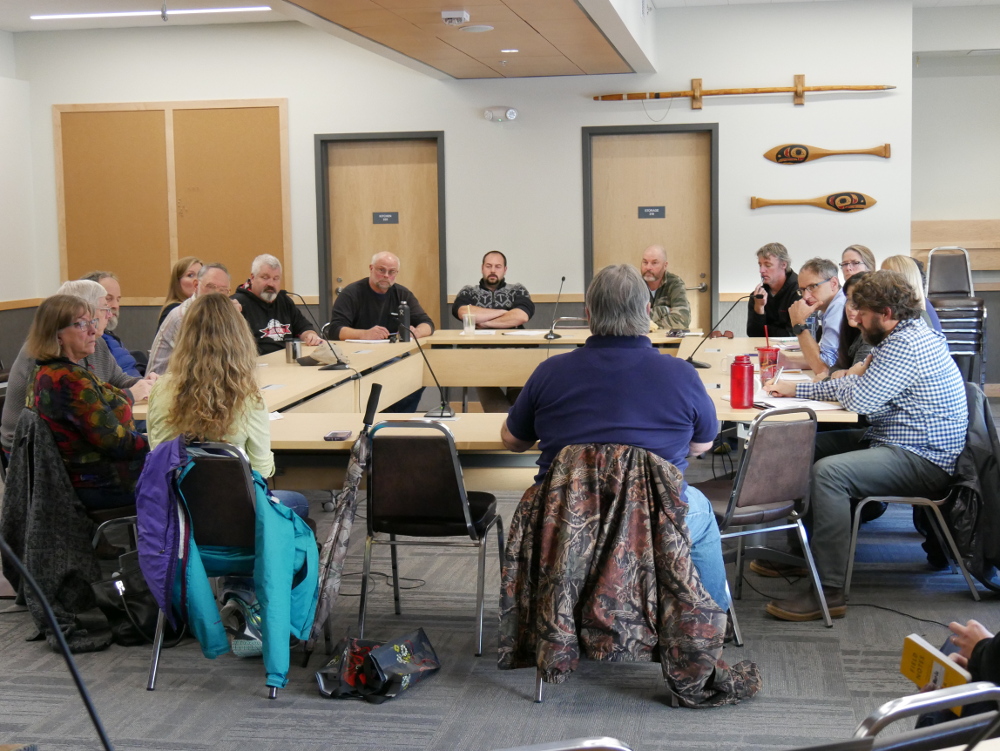 Petersburg's hospital board last week made another pitch to the borough assembly about the importance of coming up with a plan for a new or renovated medical center. Assembly members sounded receptive to the idea of making the project a high priority for the borough.
The aging medical center building is owned by the borough and employs about 120 people. Parts of the building date back to 1955. Medical center CEO Phil Hofstetter hoped for an agreement to seek solutions.
"I think the important message is that the facility that is currently there is fully depreciated," Hofstetter said. "It's pretty much at the end of life. There's a lot of things going wrong with it underneath the hood, not necessarily cosmetically but under the hood there's some serious risk, we can talk about. I think it's important today, not to say, number one how are we going to get funding for it, where are we going to get funding for it, where are we going to place it. I think what's important is to sort of agree that what's under the hood is sort of a risk and we need to come together and figure out what we're going to do next."
Assembly member Jeff Meucci wanted to know if the hospital board had made a decision about whether to pursue a new building or renovate the old. Board members said they hadn't made a decision, but several explained it didn't make sense to put so much money into an old facility.
"The choices are you spend a minimum of 16-18 million dollars bringing the existing building up to code, which I think is a waste of money personally," board member Tim Koeneman said. "You still have the same inefficiencies in the building but you could add an annex for long term care or something like that. So really the choice becomes if we want the most efficient most modern system, it's build a new one."
And Hofstetter noted that the medical center couldn't make such a decision without community input.
PMC had a building condition assessment completed in 2015. An architectural firm found a majority of the "systems, components and finishes have exceeded or are near the end of their service life and should be replaced." Estimates put the cost of upgrading the existing building at 16 millon dollars or building new at more than $40 million.
Director of nursing Jennifer Bryner explained the main reason for a new building is to avoid an emergency shutdown of the old facility. "We want it to be prettier and we want to be more efficient and all those things but ultimately we just don't want it to be shut down and closed because of a failure," Bryner said.
Hospital staff talked more about a recent sewer failure that had staff scrambling to make repairs and clean up.
"Those are the things that kind of leave me awake at night," Hofstetter said. "Yeah will the facility be good for a year or two, three years, fours, yeah. But it takes, it's going to take 5-10 years before we really secure the funding, find a site, figure out how we're going to do it and then maintain the old building and maintain services for the community and then build a new building. So it's going to take time even if we had money fall out of the sky today."
Hospital administrators asked for repair work to be included on the borough's annual capital project priority list and asked for a new hospital building to be a top priority for the municipality. They're also hoping to gather public input from the community about what services are considered essential. To that end, the medical center is planning to host some community cafes starting in mid-November.
Assembly member Kurt Wohlhueter didn't think those forums would get much interest. "You're not going to get full community participation on this," Wohlhueter said. "And I think if you're talking about a new building, you know everybody thinks we're going to have to dig into our pocket for 50 million dollars but a big portion of that's going to come from outside funding sources so, we're really not going to do that much. But the point is you have to bring everybody along with this, with what you have to offer."
Wohlhueter encouraged more outreach for the services that the medical center offers and what would be lost if those can't continue.
Several at the work session raised the concern of new building fatigue, or opposition to constructing more public facilities, even those funded by outside grant money. But some assembly members seemed convinced that the hospital needed a solution.
"You know for me I keep hearing about new building fatigue but this is something that needs to kind of get addressed," said Jeff Meucci. "Like, Phil says, I mean we're very thankful to have Phil as the administrator because he communicates well, reaches and I appreciate that, as well as the hospital staff. It's going to be a community-wide discussion about how we're going to fund it and what we're going to do and I think this is a great start."
Some of the possibilities for funding are grants from the federal or state governments or other sources, or a revenue bond, or debt the hospital could repay with revenue instead of raising taxes. That would require approval by local voters.
The next steps are a study for a new or renovated building, updated cost estimates and more discussions with the assembly about where a future hospital could be located.
The medical center's community café is planned for November 15 in the community room at the library.