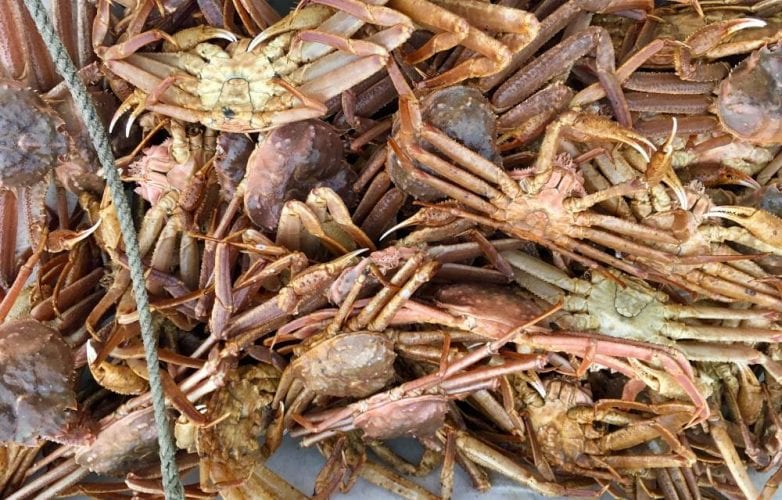 Southeast Alaska's upcoming commercial Tanner crab fishery could bring another high harvest while the Golden King crab fishery will likely be low. Both fisheries open Tuesday, February 12.
It looks like it could be another good year for Tanner crab in Southeast. State managers estimate there's a lot of mature male crab that the fishery targets–about 6.62 million pounds of them. That's a slight decrease from last year but 2018 saw the highest biomass ever predicted.
Last year's fishery brought in about 1.2 million pounds by 73 permit holders. The fishery was valued at $3.68 million at the docks with an average price of $3.07 per pound. Several factors go into the price but it's heavily influenced by the economy in Japan, which is one of Southeast's main markets for Tanner.
Managers have been expecting good numbers going into this season. Joe Stratman is the lead crab biologist for the Alaska Department of Fish and Game in Southeast. He says they collected data from twelve survey areas, which showed good results.
"Generally, it gets better as you go north," Stratman said. "A lot of the healthy and above average areas are north of Petersburg, north of southern Admiralty [Island]."
The state uses a formula that scores each survey area for several factors including catch per unit for size and sex and the quality of the crab's egg clutches.
"We had one that was healthy and that was Stephens [Passage] up around Juneau," Stratman said. "We had six areas that were above average, four that were moderate, we didn't have any that scored below average and we had one that had a poor score and that was Thomas Bay here near Petersburg."
Biologists with Fish and Game have been tracking Tanner crab in Southeast since the late 1990s. Stratman says the population has definitely seen its ups and downs since then.
"In the late 1990s we saw some large harvests and some large estimates of abundance from the survey," he said, "and then things cooled down a little bit in the 2000s and mid 2000s was sort of a low point in harvest and survey results and kind of what we've seen over the last few years are things kind of trending up again to levels similar to the late 1990s."
Managers won't know how long the fishery will be until it begins because the length depends on the number of fishermen registered and they can register up to the start. But normally the fishery lasts about a week.
Some Tanner fishermen will also be harvesting golden king crab. That fishery coincides with Tanner but on a much smaller scale. Last year 13 permit holders brought in 60,000 pounds of golden king, also known as brown king crab. That's way below the ten year average of 430,000 pounds.
The species has been declining for several years. Biologists aren't sure what to expect long term. They don't survey the crab and rely on harvest data to manage the fishery. Stratman says harvests have fluctuated a lot over the decades since the fishery began in the 1970s.
"There was a big peak in the 80s and then there was a collapse in the 1990s, and the fishery improved in the late 1990s and stayed at relatively high levels through the 2000s and since about 2011 things have been declining," he said.
The state manages the golden king crab fishery in seven areas and each has its own harvest level. The northern management area will not open but the east central management area, which was closed last year, will. Combined, guideline harvest level for all open areas is 76,000 pounds.
Last year golden king brought about $10.10 a pound at the docks with an overall fishery value of $660,000.