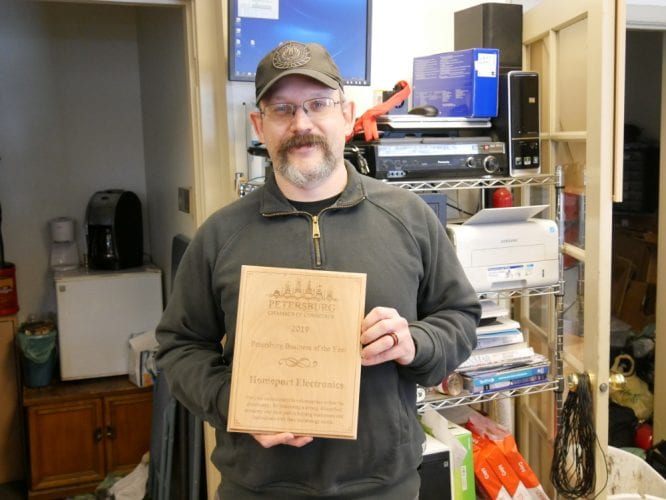 Local electronics and computer company Homeport Electronics was honored as the business of the year at the Petersburg Chamber of Commerce annual banquet Saturday.
Company president Devren Bennett started up the business called "Devren" in 2010. He changed it to Homeport Electronics a few years later. Bennett said the award was a complete surprise.
"It's super humbling," he said. "I've been doing this for a long time and it's really cool to see some recognition for it. I really appreciate it."
Bennett has been offering computer services for decades. The chamber noted that Bennett started taking apart and rebuilding computers in grade school before going on to the University of Alaska Southeast for classes in computer science. He later started mitkof.net, one of the first companies to provide internet service here.
Homeport Electronics offers marine electronics sales and services in this busy fishing community. Local businesses and residents depend on Homeport for computer support, often a frantic phone call when a virus on hardware problem strikes. The company offers printing for clothing, signs and vessels as well as free electronics recycling. Bennett said the focus of his business changes throughout the year.
"During the summer months it's commercial fisheries for sure and then during the winter months I do a lot of supporting the small businesses around town and personal computers with my managed computer service," he said.
Bennett was the sole employee of his company initially. He's had other workers helping out during his nine years in operation and said he's currently looking for more. Bennett also was recognized for volunteering in the community. He's been with the volunteer fire department since 2009 and has led the junior fire fighters training program for six years.