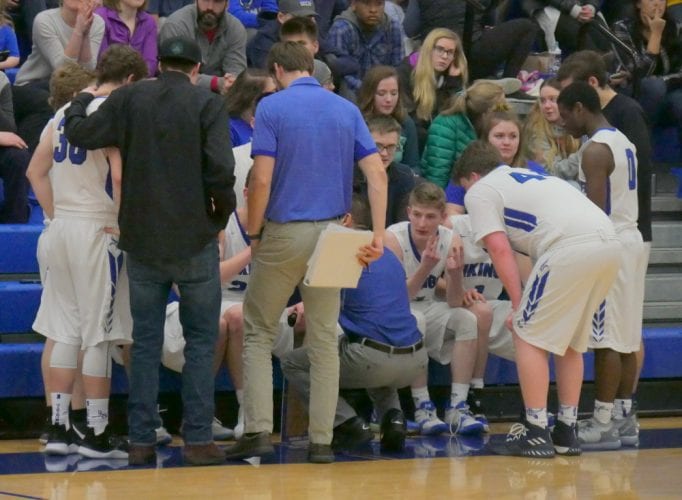 With two weekends left in the high school basketball regular season, seeding is still undecided for Petersburg's two teams.
The Petersburg High School girls team won both their games on the road last weekend to complete a regular season sweep of the Haines Glacier Bears. The Lady Vikings beat Haines 52-28 on Friday and 62-18 on Saturday, improving their record to six wins and nine losses.
Girls coach Dino Brock said his team's full court pressure helped spark their offense.
"We started out pressing both nights, kind of got ourselves going and especially Saturday but both nights really we shot the ball a lot better than we have been," Brock said. "We played with a lot more energy. Overall just there were good efforts."
Two freshmen led scoring in Friday's game, Kaili Simbahon with 21 points and Ines Larson with 15. Larson scored 20 points for Petersburg the next night, Simbahon added 10 and another freshman Adrianna Stough scored 13. Eight players scored for the Lady Vikings in that game.
Brock said the games allowed for many changes in the line up.
"The last couple games have been pretty steady but we're playing a lot of people," he said. "This weekend especially, everybody got a lot of playing time, so it was good to see some of the younger kids especially get on the floor against some varsity competition and get a lot of minutes."
The Lady Vikings are on the road against Craig this weekend. Petersburg split their first series with the Panthers in January. Petersburg, Craig and Metlakatla are battling to determine the second, third and fourth seeds for the regional tournament, while Wrangell looks to have secured the top spot and Haines will finish in fifth.
Among Southeast boys 2A teams Metlakatla hasn't lost a game in the region and has locked down the number one seed while Craig will finish number five. Seeds 2, 3 and 4 are still undecided between Wrangell, Haines and Petersburg.
The Vikings, also on the road last weekend, lost to Haines Friday 64-48 and won Saturday 62-52. In Friday's game senior Louden Sandhofer led scoring for Petersburg with 19 points, while juniors Rylan Wallace added 11 and Gunnar Payne scored nine points.
Boys coach Rick Brock said his team's shot selection wasn't great on Friday. Because of that he says the Vikings had trouble defending against the Glacier Bears.
"Little frustrating for us because we had been playing better and talked a lot about getting good looks at our end to make them play defense and we just, we didn't do it," the coach said. "We weren't patient enough. When they get rolling, when they're making their shots and getting out in transition they're hard to guard."
In Saturday's game, the coach said his team got out to an early lead and was able to hold it for most of the game. Sandhofer scored 21 points on Saturday, sophomore Brennan Skeek put in 12 and junior Brayden Larson added 11 for the Vikings.
"You know I thought we made progress from Friday to Saturday, that was how we were playing when we were on a winning streak," Brock said. "And we hope to continue playing that way, getting ourselves ready for tournament, where we… I thought Saturday too we defended much better in the half court and then because of our offensive efficiency we didn't have to chase them back. We were under double figures for turnovers so that helped. So we just hope to continue to do those key things for us here in the last four games."
Those last four games are all at home for the Vikings, who are now 8-9 on the season. They play Craig this weekend and finish up the regular season against Wrangell.