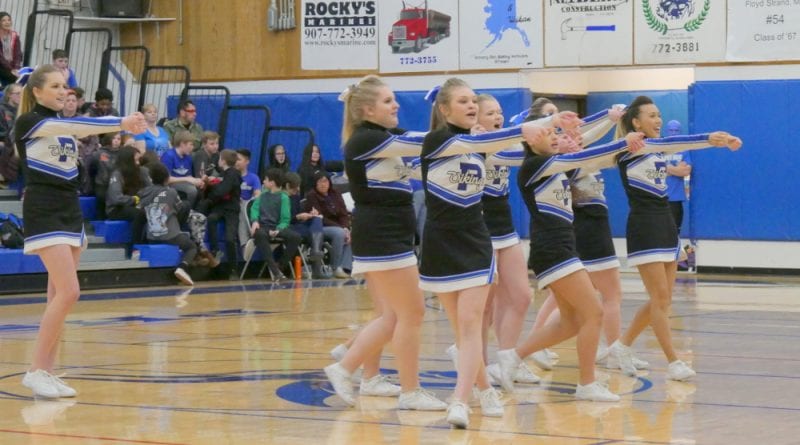 Petersburg's High School's cheer squad took first place at the regional tournament at Mt. Edgecumbe High School in Sitka over the weekend. It's the fifth region title in a row for the team, which practices for months during the fall and winter. They also cheer at basketball games and prepare a performance for the regional tournament.
Joe Viechnicki spoke with co-coaches Sara Hadad-Dembs and Rebecca Steffenson about this year's squad.
Martha Johnson, Sage Johnston and Avery Skeek were named to the all-tournament team at the regional competition. The team did not go to the state championship competition last year but will this year. That's next Wednesday, March 20th at the University of Alaska Anchorage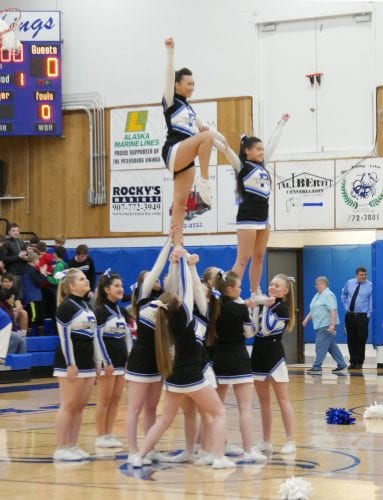 PHS basketball teams also have returned from the region five 2A basketball tournament at Mt. Edgecumbe High School in Sitka. Both of Petersburg's teams won their opening round game and then lost their next two, coming up short of a berth at the state tournament.
The Vikings beat Wrangell 42-38 Wednesday, March 6, then lost 64-63 to the Southeast 2A champs Metlakatla Friday, March 8 and then dropped the second place game to Haines 38-30 on Saturday afternoon.
Joe Viechnicki spoke with boys coach Rick Brock about the final games of the season, starting with the one point loss to the Chiefs
Individually, Brayden Larson and Zephrie Whitethorn won good sports awards.
The Haines Glacier Bears finish in second place among Southeast 2A schools and will join Metlakatla at the state tournament.
Meanwhile, the girls team opened up with a 67-45 win Wednesday morning over Haines and followed that with a 49-34 loss to the Southeast champion Wrangell Lady Wolves on Thursday. The girls lost to Craig Friday morning 51-33 to end their season.
Joe Viechnicki spoke with girls coach Dino Brock about the tournament and his team's season.
Kaili Simbahon and Ines Larson made the all-conference team for Petersburg. Tayla Heppe and Annie Christensen won good sports awards for the Lady Vikings.