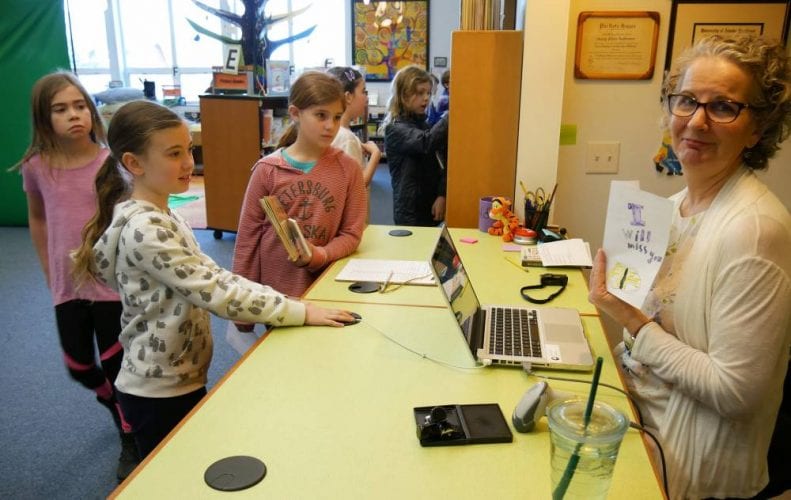 Librarian Mary Ellen Anderson is retiring after nearly 20 years at the Rae C. Stedman Elementary school in Petersburg. As Angela Denning reports, she's transformed the library from the old days of the card catalog to the modern computer era.
Today, third graders are scattered throughout the elementary library. Some are reading and others are getting ready to be filmed in the middle of the room. They take turns standing in front of a large green screen backdrop holding up a book they've chosen to feature.
Anderson has been working with the students to recognize illustrations that they like in award winning books. Then they record short art reviews.
"They pick one that they love the art in and I have them focus on what about the art that they love, using artistic terms," Anderson said.
Bella Miller situates herself in front of the camera and holds up the book, Puss in Boots.
"The reason I like this book is because of the old fashioned art and the beautiful details and Puss in Boots is very mischievous just like me," Miller said, into the camera.
Earlier, Miller took a photo of her favorite picture in the book. Now, her image is superimposed onto that art so it looks like she's standing in front of a giant painting in the video.
Anderson spends part of her day as a traditional librarian and part of it teaching students technology skills. She has her Master's Degree in Educational Technology. Between kindergarten and fifth grade students learn digital literacy, cyber safety, research, and how to create visual projects.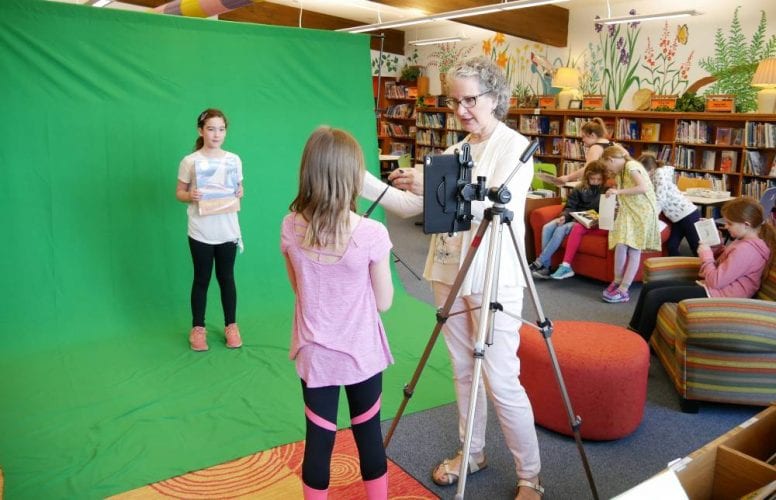 "At the beginning I was a little resistant about technology. I was kind of old- school," Anderson said. "But having learned so much and seeing the fun things we can do and the way it connects with the kids reality now–there's a lot of technology now–and they need to be educated about it and I think it's real important that we do it right."
There are 10,000 items in the library's collection. How they're tracked has changed dramatically over the years. Gone are the days of the card catalog.
"We had those little cards in pockets where you wrote your name on a card and turned it into the library and we would file them in alphabetical order or by class order and when the book came back you'd have to find the card and put it back in the book," Anderson said. "It was pretty tedious and labor intensive."
Anderson digitized the entire library. One summer she received a state grant and entered every book into a computer system. Now, the checkout process is a lot quicker.
Before the third graders go back to their classroom, Anderson helps them check in and out books. She's always liked the orderly system of the library even as a child.
"When I was a kid I used to check out my dad's prized collection of Dickens to the neighborhood kids," Anderson said. "I'd written in black marker- numbers in all of them."
Anderson has nearly memorized what's in the library and she's patient with questions.
"Do you know where the books are for like surviving?" third grader, Finley Willis asked her.
"Survival books?" Anderson said. "We have a number of them. Most of them are checked out."
Then Anderson proceeds to help him find similar books on the shelves.
And if Anderson thought today was a day she'd get by without a few tears she was wrong. A student in the checkout line hands her a homemade card that reads, "I will miss you."
"Awww, now you're going to make me cry," Anderson said. "That is very sweet, Keely."
Anderson's retirement is bitter sweet and it's hard for her not to tear up these days.
She loves connecting with the kids and getting them interested in reading but mostly she just likes being around them.
"The kids, kids, kids," Anderson said. "I'm going to miss that the most. Every day I come in and just funny things happen, goofy things, heartwarming things. I just adore them."
As for retirement, Anderson plans to stay in Petersburg and do some traveling, gardening, boating, fishing, knitting and sewing and, of course, a lot of reading.