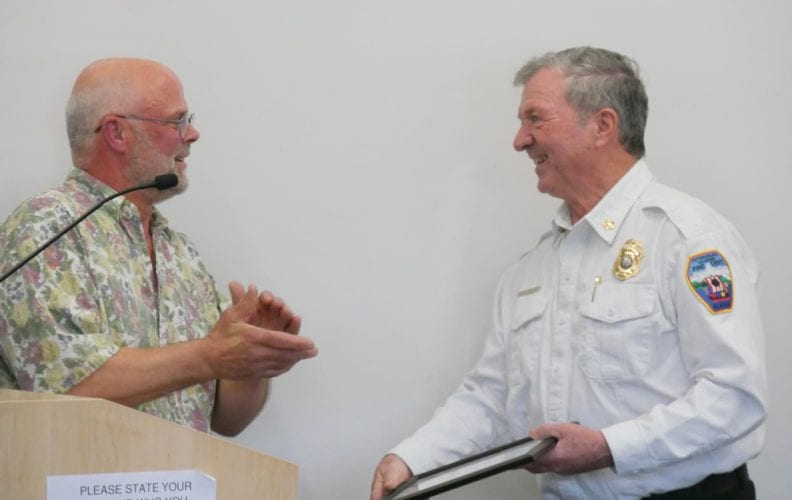 Petersburg Monday night honored a retired fire chief with just over half a century with the local volunteer fire department.
Doug Welde retired March 6. He joined the department February 6th, 1969 after returning to Petersburg following service in the Air Force. He served as assistant chief and chief, emergency medical technician and worked for the city of Petersburg as fire marshal for over 22 years.
Mayor Mark Jensen read a proclamation of appreciation at Monday's borough assembly meeting.
"Chief Doug was instrumental in helping lead the volunteer fire department from a single purpose department to a fully integrated department that saves lives, not only from fire emergencies but also medical and search and rescue emergencies," Jensen read.
Welde followed in his father's footsteps. Kenneth Welde was a long-time member of the department and chief. Son Ryan is Petersburg's fire marshal, one of two paying jobs in the local department.
The retired chief commented on the level of volunteering in the community.
"All of our members of the department, our 60-70 members and the hard work and the amount of time and hours that they all put in, everybody in this room probably has volunteered," Welde said. "The council, they volunteer doing stuff for the borough, for the city, you're on committees, you're on… everybody, most people listening on the radio, they volunteer, they do things. And that's what makes our town so good. We have so many volunteers and so many organizations and things are happening and the town's pretty vibrant. We got a great community and it takes volunteer work. Our volunteers in the department are absolutely terrific."
Welde also thanked the families of the volunteers for their support.
"I mean drills are planned and you know when you're going to have a drill and you can skip a drill if there's somebody's birthday and stay home and that kind of stuff," he said. "But when the pager goes it's up and gone. And it disrupts so many things, year after year, and families. So that's what I say. I tip my hat and give and extra thanks to all the spouses and the significant others of the members of our department."
More than a dozen volunteers turned out to honor Welde Monday as he received the proclamation from the borough.